If there is any silver lining to being a third-world nation or not having peak digital sophistication is that Pakistanis can watch how early adopters of a policy, law, idea, or technology interface with it and the indirect & direct ripple effects of that first-mover advantage. 
We can then choose to learn from the lessons documented by our relatively advanced counterparts and hope that we do not make the same mistakes or perhaps, account for the possibility that there are safeguards to prevent us from experiencing the worst outcomes of those inevitable mistakes.
For instance, by studying the entire Airbnb journey, we can inform our policymaking around start-ups such as Roomph.pk, or by studying the aftermath of a tragedy, we can hope to uncover a framework on crisis communications. With such little investment towards R&D, both academic and corporate, we hope to learn from the nations that appear to be ahead of us.
With the 2021 ICC T20 World Cup underway and the bidding process for the 2022-2025 PSL across the corner, along with the appointment of Tania Mallick as the new head of women's cricket at the Pakistan Cricket Board (PCB), Profit sought to understand Everything standing between the PCB and a women's PSL. 
The reasons for the absence of a women's PSL was boiled down to a low supply of quality female athletes, particularly those that would not quit due to pressures created by their families and partners. Spillover reason applied to the poor incentives that would encourage families and partners to support their daughters and wives to remain in the game for the long haul.
Having attended AdvertisingWeek New York last month, in a bid to understand what the advertisers and agencies of Pakistan need to be wary of when they dabble in the metaverse, collegiate sports, eSports, advanced influencer marketing, DEI initiatives, and activities that boost ESG outcomes, we are crestfallen to report that even our relatively advanced counterparts struggle to make any real changes when it comes to women's sports.
Article continues after this advertisement
During the panel, The Coverage Gap: A Step Toward Leveling Visibility and Viewership Disparity in Women's Sports, speakers from The Female Quotient and from the DAZN Group shared research about the massive disparity in the amount of coverage female athletes receive in broadcast games, media, and sponsorship. The research found that even though the audiences and fans numbers were present, there is still much that needs to be done in order to move the needle on more equal representation in women's sports.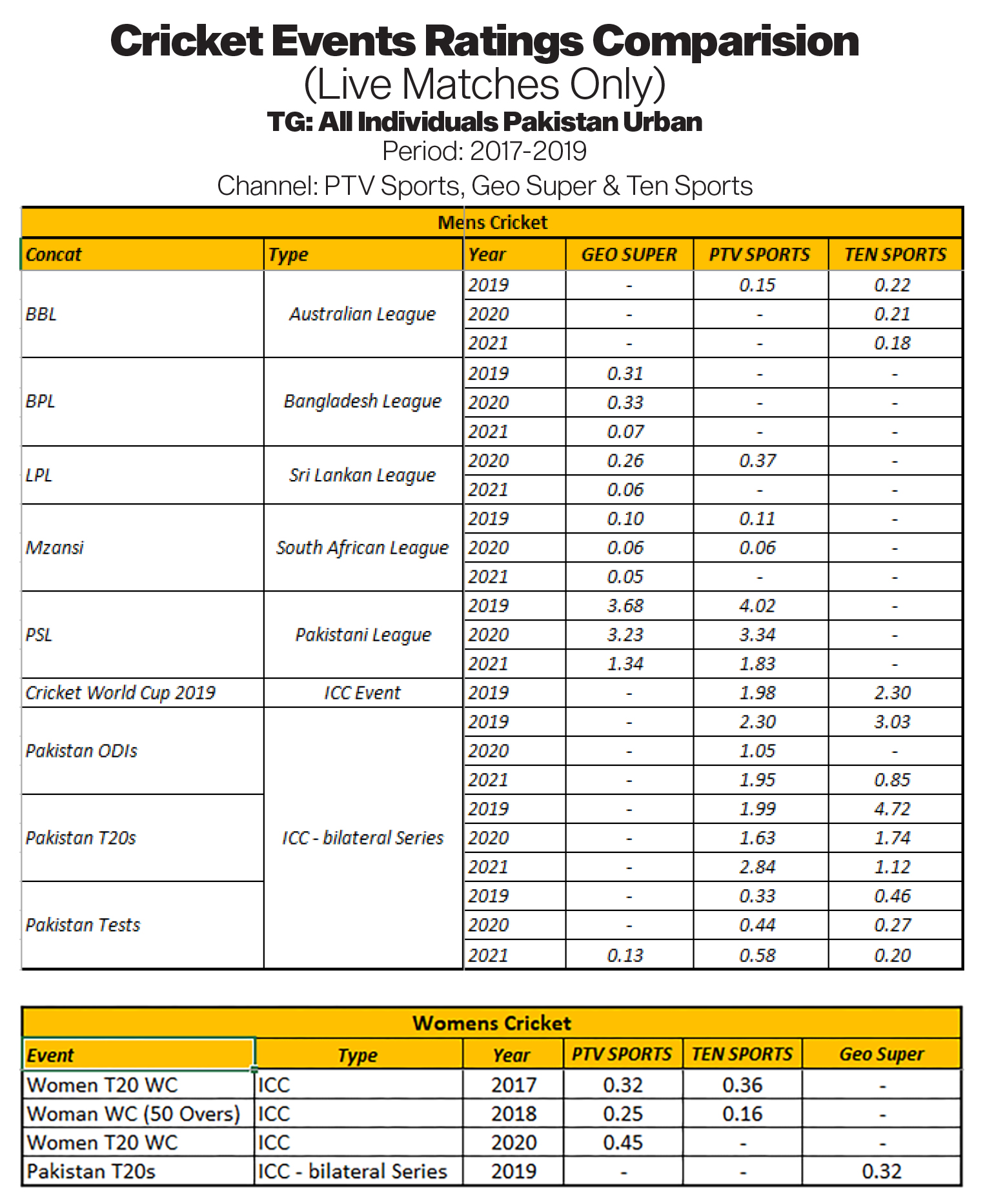 "We live in a world where nearly every men's game for every major mainstream sport can be available at our fingertips in an instant, anytime, anywhere (usually primetime!) and with highlights posted within seconds," said Shelley Zalis, the CEO of The Female Quotient. "The same is not true for women's games, and this, rather than lack of fan interest, is one of the reasons why the coverage gap persists."
The research, which covered the entire world of sporting enthusiasts, found three key reasons why more people do not watch women's sports games: they do not know enough about the athletes and teams, they don't have as many opportunities to watch those games, and they are unaware of when or where to watch the games that are available.
Data from MediaLogic from Pakistan itself lines up with this, with the disparity in the coverage given to women's cricket athletes, weak promotional investment around the key players and the team as a whole, and a small number of channels willing to air the matches.
The 2021 ICC T20 World Cup is being aired by PTV Sports, Ten Sports, Daraz Live, and A Sports by ARY whereas at any given point in time in the past three years, no more than two channels were interested in air women's cricketing events. Moreover, media executives told Profit that the weak ratings are a reflection of weak investments towards creating a celebrity status around the players and with weak match marketing.
"The potential for women's sports however is immense," said Urooj Hussain, head of MediaVest at Brainchild Communications Pakistan. "The change in perception and interest for women's cricket will not happen overnight though. The recipe for growing ratings and audience interest is a mix of sustained coverage overtime via news coverage, talk shows, interviews, and PR mileage to really put women's cricket in the spotlight."
This gap is exacerbated by a lack of year-round storytelling for women's sporting events compared to nonstop men's sports and athletes. Data from The ViewLytics and Walee.pk shows that social conversation from Pakistani cricketing fans reflects a permanent buzz throughout the year surrounding male athletes and events, but the conversation around female athletes only spikes around select events, such as the ICC Women's T20 World Cup.
"News coverage of men's sports includes both in-depth analyses relevant to the sport and human interest stories, such as male athletes' charitable work in the community, which builds an emotional connection with the audience," said Haiwen Lu, VP of global communications & social impact at the DAZN Group. "Though female athletes often participate in the same amount of charity outside of their sport, for example, their contributions are rarely covered in sports media."
The study found that in the early 2000s, on-air commentary focused on positioning female athletes as mothers, wives, and girlfriends, rather than their technical ability within their sport, which was overcorrected in the past decade so much that the commentary is now in danger of becoming boring.
"Data show that broadcasters consistently deliver commentary without the enthusiasm or vocal excitement prevalent in men's sports," said Zalis. "To compound the issue, exposure to quality media coverage of women's sports is practically non-existent, appearing only around major events. The lack of engaging on-air commentary paired with the inconsistent quality of contextual storytelling of women's sports broadcast and news coverage leaves little room to build or sustain an audience."
Possible solutions
"It was only after Samina Baig became the first Pakistani woman to climb Everest in 2013 that advertisers such as HBL began to pay attention to her, latching onto her own brand equity to siphon it towards themselves," said Ali Rehman, founder of Allee, a luxury goods conglomerate which designs, manufactures, distributes, and sells jewelry. "Pakistani advertisers are focused on peddling commodities. Had they been in the brand building business, they would have been involved with personalities that reflect their core values from the grassroots level."
Rehman added that instead of sponsoring and supporting athletes during their preparation days, advertisers in Pakistan have always preferred to let someone else do the hard work and then attach themselves to the bandwagon. 
"Advertisers in Pakistan began to attach themselves to Olympians once there was sufficient attention towards them," he said. "An advertisers unwillingness to involve themselves from the bottom up is a wasted opportunity in brand building. Retention is always cheaper than acquisition, loyalty is always cheaper than last-minute leeching, which – just by the way for so-called data-driven marketers – millennials can see right through."
The DAZN study found that in order to close the gap between fans who say they are interested in women's sports and fans who are actually actively watching women's sports, it's imperative to invest in storytelling that increases visibility and builds dedicated interest in matchups, rivalries, fan stories, the profiles of the athletes themselves, and more – in equal, consistent volumes and with the similar breadth and depth in which men's sports are covered.
"This, paired with quality and increased broadcast and media coverage – all working together to muster the time, enthusiasm and diligence women's sports deserve," said Zalis. "It's way past the time when women's sport should be the subject of this kind of unresolved discourse around inequity and imbalance."
Grassroots investments towards women's sports year-round may also be pitched to advertisers and agencies as an excellent avenue from a brand equity perspective, with most CPG advertisers in Pakistan leaning their urban targeting towards women empowerment, the role they would play in elevating female athletes would pay dividends for the decades to come.
"The top five largest advertisers in Pakistan should make reasonable investments to grow women's sports because women are usually their target customers and the visibility is long overdue," said Fatima Hyder, the group chief strategy officer at Z2C Limited. "Women literally represent 50% of the sheer athleticism, unrivaled personalities, and inspiring stories of the country. Instead of dismissing and missing out on half the opportunity to captivate and delight fans around the country."

She added that female-oriented advertisers can uplift their target audience by placing strong, capable, fast, and empowering role models on a pedestal in order to make strong the new sexy and break stereotypes in a meaningful manner.
"Brands must strive to reflect the diversity of their entire audience wherever possible, and for many brands, that means better and ever-increasing investment in women in sport as well as women's sports," she said.