Amid news that Tania Mallick, a professional with outstanding credentials has been appointed as the Pakistan Cricket Board's (PCB) new Head of Women's Cricket, advertisers and agencies across the country are eagerly waiting for a chance to bid for the media and broadcasting rights of the inaugural women's Pakistan Super League. 
"PSL for women sounds exciting and relevant," said Fatima Saleem, a sports journalist on Geo Super at the Geo Television Network. "It's high time women in cricket are given the respect they deserve. The recently concluded women's T20 tournament by the PCB has set a precedent and that there is an interest by the sponsors and fans. The fact that the tournament was being televised the quality of the game was top-notch."
She said that The Hundred played in England has proven that women's cricket is commercially viable and PSL for women can be groundbreaking for women all around the world and will be the first step towards the growth of the game. She added that fans will get to know their players and engage while hoping that this might lead to women in Pakistan getting their own cricket ground.
"It is clear that the time for a local women's cricket league of international repute is here and the potential to develop it as an industry can no longer be ignored," said Rubab Hasan, the marketing and communications director for The IPG Group. "We have seen that the gender gap between men and women in all sports across the world has diminished, and cricket is not an exception. We are witnessing much bigger audiences and a far greater interest in women's sports with a corresponding increase in the fan base of sporting stars. Given these global trends, it is logical to assume that heightened Interest in women's sports will soon be visible in the subcontinent too."
Speaking with Profit, Strawberry Sports Management founder Haider Ali Daud shared that a women's cricket league would be a step in the right direction amid factors such as the unending fervor towards cricket, half of the population being female, and the increased recognition of diversity and inclusion as part of the ESG goals across advertisers and agencies. 

Article continues after this advertisement
"It will take its due course to become a commercial success, but then all good things start small," he said. "I am a big supporter of women's sports, so the idea of a women's cricket league is definitely a go. When it comes to drawing up a business case, at times the emotive element is overlooked or cannot reasonably be quantified. When you take the path less traveled, you are taking on a larger risk for sure. There aren't enough or even any data points to support your decision." 
Low supply and the need for affirmative action 
If there is misconception across cultures with regards to fitness, coupled with archaic cultural norms, it is no surprise that there are just not enough women available to play cricket at an elite level.
The advertisers claim that the type of sexism holding back the women's PSL has less to do with urban advertisers and agencies and more to do with the parents, siblings, and spouses of our star potential athletes holding back women due to log kya kahengay factor, which has done more to keep Pakistan in 3rd world nation status than our annual brain drain does.
"I don't see any need to invest in this direction," said Umair Saeed, the chief operating officer of Blitz Advertising. "My reasons are simple: there is a serious lack of quality domestic players to conduct four to six proper teams for any tournament. So before you start thinking of planning a PSL women's tournament, the PCB needs to cultivate and grow interest in women's cricket in Pakistan."

However, the log kya kahen ge factor is one that cannot be quantified, even though it exists and is widespread. In such situations, there is a dire need for affirmative action. First, there is a need for this from the cricket board which must give women cricketer's the same opportunities that their male counterparts have. Strides have been made in this regard over the past few years, but even where it is not profitable or makes market sense it must be done. If there are few women players coming up right now, then starting a women's PSL that is well paid will encourage more women to participate as they will see an end goal towards which they can work. The money they make from this will also convince parents and society to accept womens' cricket as normal and a noble profession. 
At the same time, media and advertising agencies claiming to be progressive must hold the PCB's hand in this sort of situation and think of this as a future investment. If a tournament is created, maybe not with six teams initially but with four or even three, and good quality competition is promoted, it will inevitably result in attention towards it and the blossoming of more players. The excuse that there are not enough domestic players for six teams is a lame excuse given that even the men's tournament started with only five, and it is possible to have a tournament with even fewer teams. This is not even counting foreign players. 
What can be done 
One of the ways in which the PCB could improve its talent pool for women's cricket would be to organize and invest more in the under 19 leagues as both a testing ground and a discovery engine for new players across the country. As evidenced by the acceptance of women dominating the social media content creator (SMCC) space – as reported in the first influencer pricing report from Profit – it may simply be the matter of offering women a higher pay bracket for the games, incentivizing enlistment and familial acceptance.
"The business success of a sports platform is determined by the quality of the players and the monetization of the league or tournament by means of taking its own as a 'property," said Hasan. "Commercial benefits accrue from an agglomeration of TV media deals, franchise sales, sponsorships, viewership, and broadcasting."
She told Profit that the digital trends data from IPG owned Cricingif shows that female engagement rates for the PSL games have comprised of 20% of the male audience, adding that a good quality sporting event, that too of our national favorite, can be well received by any avid cricket fan, irrespective of gender.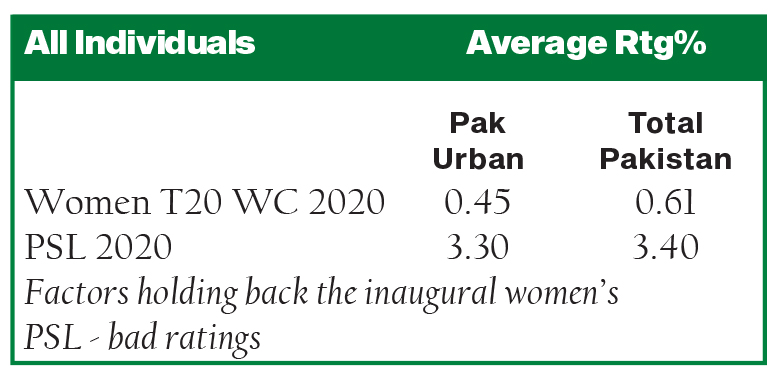 Factors holding back the inaugural women's PSL – bad ratings
According to data from MediaLogic, the 2020 ICC Women's T20 World Cup had an average rating of 0.45 from the urban populace of Pakistan and a rating of 0.61 from the entire nation. By contrast, the 2020 Pakistan Super League (PSL) has an average rating of 3.30 from the urban populace and a rating of 3.4 from the entire nation. 
"I reckon we get better ratings for women's tennis compared to women's cricket in Pakistan," said Saeed. "Maybe a lot of it has to do with the quality of production – which has been low for all women's events produced in Pakistan -, the lack of star pull – there is no female Afridi or even Shinwari -, and a host of cultural factors perhaps."
Mirroring the data from MediaLogic, Saeed told Profit that the ratings for women's cricket have not been impressive enough to build a sponsorship business case around.
Lack of fitness culture 
Across third world nations, women tell young girls that working out will make them hulking beats, and playing out in the sun will make them dark. These warnings stem from a culture that values women for being petite, weak, and fair. And these warnings have no basis in science.
Clinical trials and epidemiological studies in health research have found that women derive many health benefits from an active lifestyle, which can prevent a myriad of non-communicable diseases which account for over 60 percent of global deaths, 66 percent of which occur in developing countries. For girls, it can have a positive impact on childhood health, as well as reduce the risk of chronic diseases in later life.
Participation in sport and physical activity has been linked to good mental health for women of all ages, including the management of mental disorders such as Alzheimer's disease, the promotion of psychological well-being through building self-esteem, confidence, and social integration, as well as help reduce stress, anxiety, loneliness, and depression. 

Karachi-based trainers across Core, Platinum Fitness, and Kore Fitness told Profit that when women do come to the gym, it is usually for the sole purpose of toning before a wedding – their own or that of others – and they shy away from any form of weight lifting, even their own.
"Women tend to gravitate towards activities they perceive to be feminine such as yoga, Zumba, and walking which are historically poor with improving long-term bone strength and health," said a trainer from Platinum Fitness. "On the off chance we have women coming in with an interest towards CrossFit, resistance training, or strength training, and even any martial art, it is due to the recommendation of a health professional, as a means of mitigating an identified risk factor such as osteoporosis or worse. It is ingrained in our culture to cure rather than to prevent."
Reasons to believe
As reported by Profit, the inaugural PSL tournament had a cumulative rating of 4.8 for the entire nation, which peaked at 8.9 during the 2019 PSL and was projected to be near a 9.5 rating for the entire nation, had it not been for the COVID-19 pandemic. Industry insiders say that there is little to suggest that a women's PSL would not be able to double its own ratings within five seasons.

"Considering how women empowerment and equal opportunities for women are being discussed and highlighted now more than ever in various aspects in Pakistan, I think active participation in sports and activities must be encouraged and supported as well," said Sundus Shahid Bari, a marketing & communications manager with Bholawala Agencies. "We often compare our living standards & social activities with other progressive countries, having constant thoughts of finding ways to improve ours. Supporting women to participate actively in sports & opt for a healthy lifestyle will not only be an optimistic image for the country but also will be a healthier decision for the society."
She said that a PSL for women can prove to be a great initiative not only for cricket but also for other sports, initiation of activities such as mixed martial arts, self-defense classes, and more. She added that advertisers that partake in women's day, mother's day, and female empowerment positioning should be first in line to offer themselves as sponsors for the inaugural women's PSL, thereby putting their money where their mouth is.
"It's exciting to imagine a PSL for women," said Saleem. "Firstly our women will get the exposure they have been fighting for, our girls will be rubbing shoulders with the greats they will be in the same team as other international stars, being mentored and coached by the best in the business, The league will also provide an opportunity for local female coaches to step up their games."
"With 'femvertising' trends picking up in Pakistan as seen in the commercials for brands such as Dove, Tapal, or GSK, advertisers and marketers are constantly seeking to explore avenues that represent societal trends and awareness," said Hasan. "History informs us that sports have served a role in framing social dialogues for nations, a prime example being that of South Africa during apartheid. 'Desi' dialogues about patriarchy and women's role in Pakistan could well do with the support of the cricket fraternity, whilst simultaneously adding commercial value for the sponsors."
She added that the female cricket industry can only evolve from the grassroots level with policy integrations and government support, adding that private companies, global agencies, and specifically the government would be remiss if they do not invest in creating opportunities for women's sports.
"Historically and especially in Pakistan, cricket has always been a male-dominated field," said Urooj Hussain, head of MediaVest. "The potential for women's sports however is immense. The change in perception and interest for women's cricket will not happen overnight though."
She told Profit that the recipe for growing ratings and audience interest is a mix of sustained coverage overtime via news coverage, talk shows, interviews, and PR mileage to really put women's cricket in the spotlight.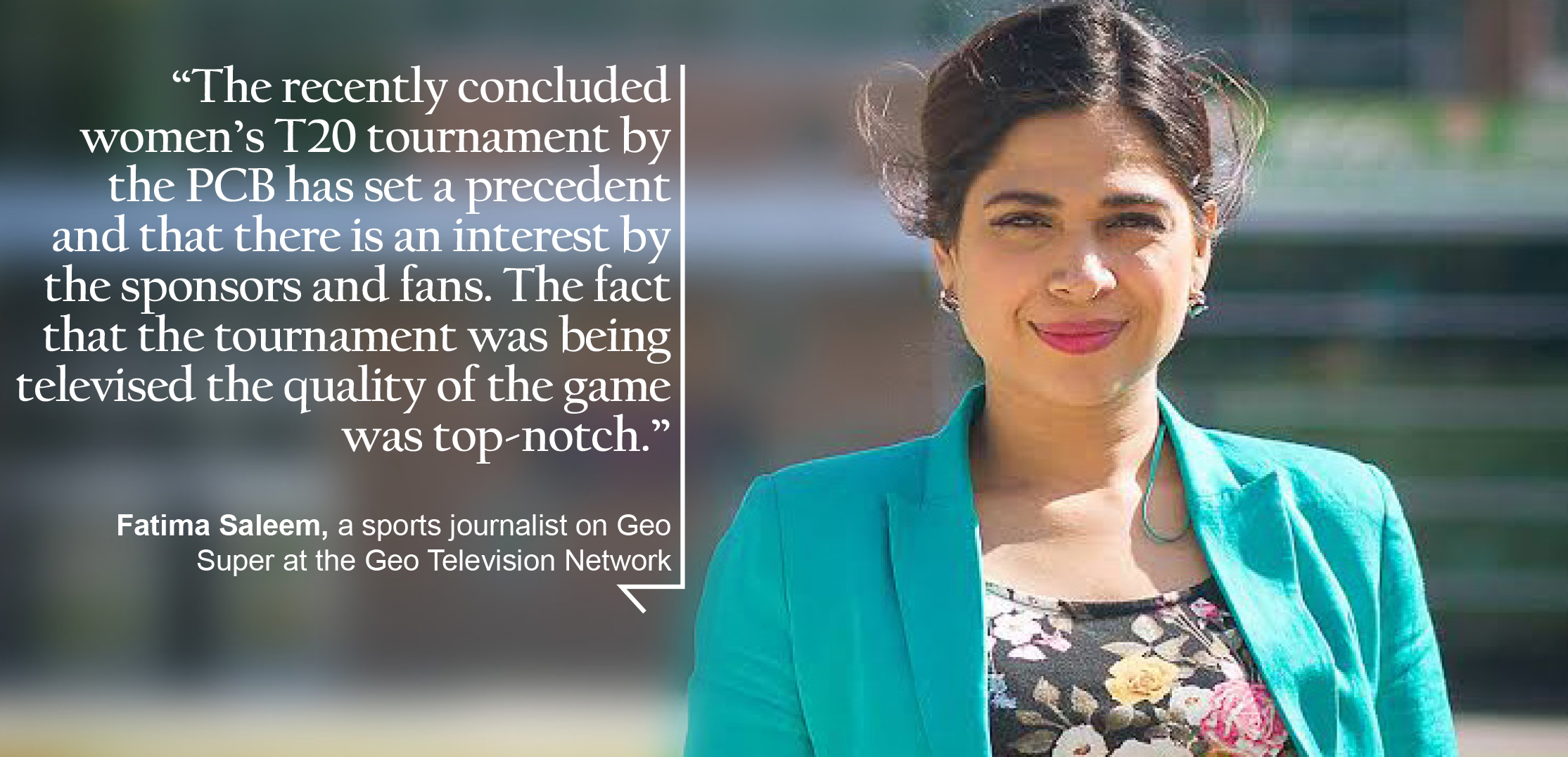 "Right now the coverage and mileage are very sporadic," she said. "A sustained flow of information over time given to the audience about female cricketing stars, their backstories, their achievements, will eventually bring about the interest in the sport. Once that happens, the ratings will eventually increase and a better business case would be made for the same."
Agreeing with Hussain, Daud told Profit that women's cricket in Pakistan should be re-evaluated from the perspective of building it bottom-up through the grassroots. 
"PCB and stakeholders should encourage and enable the setting up of women cricket clubs across Pakistan as an investment towards the communities," he said. "Sports are transformative when connected with the society."
Note: Despite repeated requests PCB declined to comment on the story