If bad network quality has been haunting you lately, then you should know that you are not alone. As the energy situation has deteriorated in the past few months, telecom operators have also faced the brunt of it. Telecom tower sites consume a considerable amount of energy, and power outages coupled with cost hikes have put the Cellular Mobile Operators (CMO) in a terrible fix.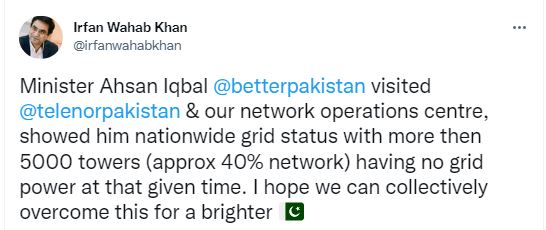 Yet, power outages are not a new phenomenon and the telcos have been tackling this problem by arranging backup power supplies, primarily through generators. But, off late, they have decided to make a strategic choice by limiting the self generation of power and letting the sites go down in case of load shedding. The telcos are of the view that energy price hikes driven by rising cost of fuel has negatively impacted their profitability and the situation is becoming unsustainable.
"Operating costs shoot up due to exorbitant generator fuel and maintenance costs. More reliance on generators means more frequent refueling and more pilferage. For a low ARPU market like Pakistan, this is a matter of grave concern for all telecom operators," said Salman Khalili, Head of Telecom Energy Solutions at Reon Energy.
The tipping point of this matter was back in June when the telcos wrote to PTA, "In the absence of immediate reversal of adverse directives and elimination of electricity load shedding, the telecom operators would unfortunately be constrained to notify the Force Majeure situation under special circumstances." 
However, it is unclear whether the concerns of the telcos are genuine or if this is just an attempt to blackmail the regulator into accepting their demand. The best way to explore this is by evaluating the financial statements of the Telecom operators and assessing the impact energy costs have on their business feasibility. 
Tower Sites and the Energy Problem
Article continues after this advertisement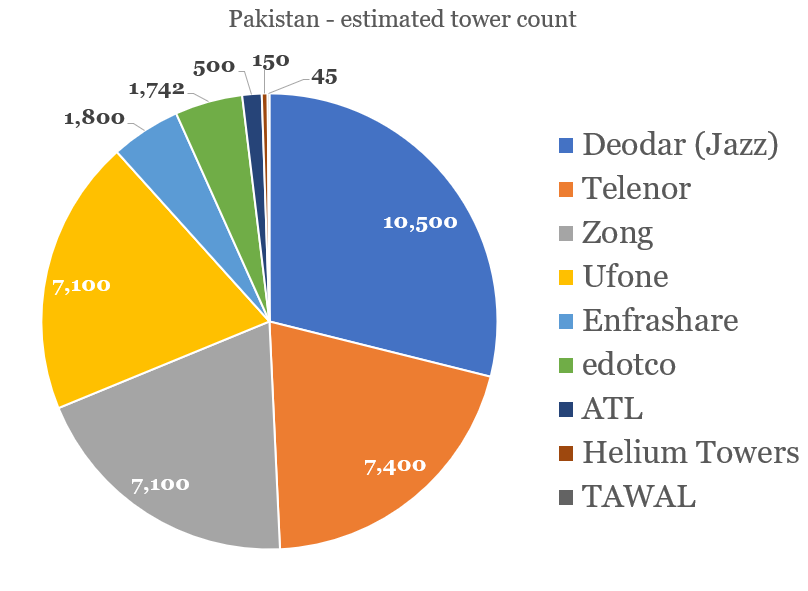 Source: TowerXchange
The share of tower sites in Pakistan is dominated by Jazz through its subsidiary Deodar, and the other three CMOs are on similar footing. 
As per an article by TowerXchange, a community for thought leaders in the global telecom tower industry, "Towercos in the country must offer a full tower+power service because Pakistan's electricity grid is unstable, and outages can last eight or more hours."  
"2022 has brought with it a significant increase in energy prices across the country, which is causing significant problems in terms of profitability for towercos and increasing costs for operators." The article further added. 
The Financial Impact of Energy Costs 
Energy costs are the single largest contributor to the cost of running tower sites. Below is an extract from Deodar's financial statements representing cost of service data for 2020 & 2019. Over those two years the utility costs, consisting of fuel and electricity charges, account for an average 45 percent of overall service cost. When compared to the net revenues of Deodar, utility costs stand at an average of 38 percent over the given period. Further, compared to December 31, 2020, the fuel costs have almost doubled which means the costs of services would have risen disproportionately compared to the revenues.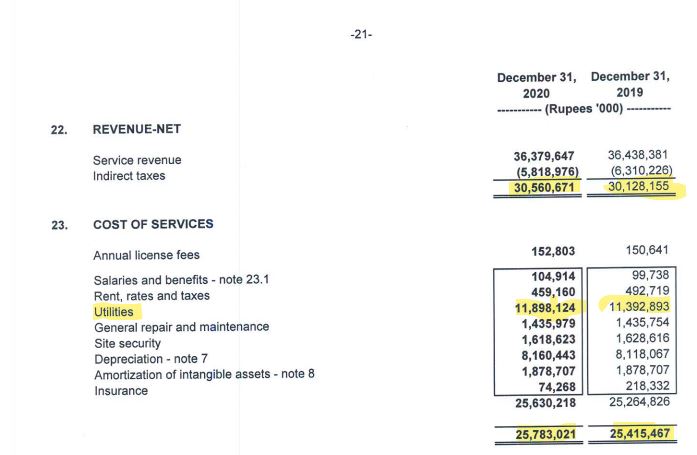 Deodar (Jazz) Financial Statements 
This ultimately adds up to Jazz's cost of services and reduces its profitability. For instance, Jazz  paid PKR 28 billion to Deodar for site sharing in 2021 as per sources. This equates to around 14 percent of Jazz's revenue from telecom business. The effects of energy cost hikes are further augmented by the fact that the company's revenue growth has historically been slow.

Source: PACRA

 
However, this is an industry-wide phenomenon. If we take a look at Ufone's financial statements for the year ended 31st December, 2021, Power and Fuel cost stood at around PKR 7.4 billion. (calculated by deducting PTCL's standalone cost from Consolidated Power and Fuel cost of the group as the residual cost could only be Ufone's given that the other subsidiary is a bank which surely does not electrocute its customers as a service).

Consolidated Figure

 

Standalone Figure

 
The amount is around 14 percent when compared to Ufone's revenue 2021. Further, PTCL currently has 7823 connections telephonic exchanges across 19 regions that consumes around 16-17.0 Million Kwh of electricity per month which costs them approximately PKR 340 million. As per PTCL's official communication to NEPRA back in March, the additional power costs have undermined the revenues generated by telephonic exchanges with the company closing approximately 10 exchanges every month. While the figures represent the bleak situation of the company a few months ago, the current fuel hikes are likely to deteriorate their condition further, given PTCL's slow growth at the revenue front.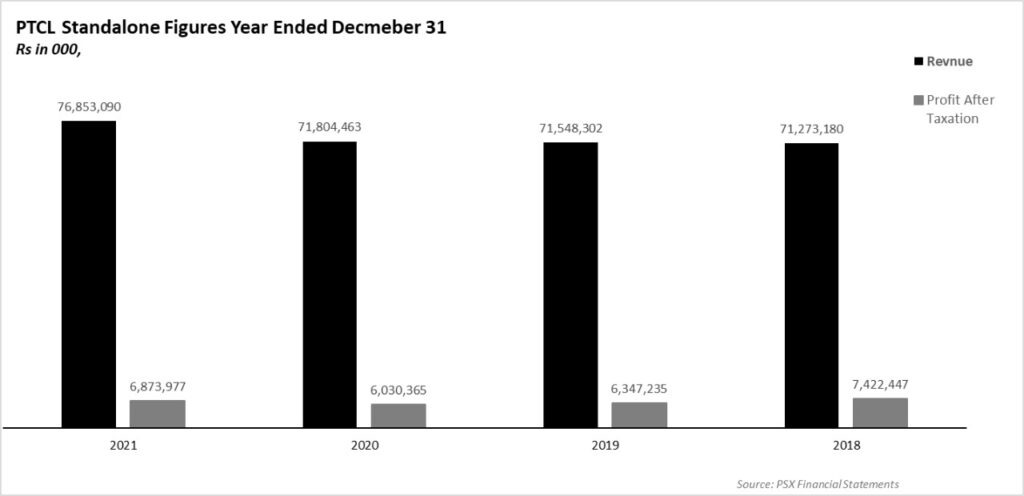 However, one could argue that this is part of business and can happen to any industry. For instance, during the pandemic, there was a steep decline in the price of fuel leading to losses on inventory for Oil Marketing Companies. 
Yet, the Telcos are at a more vulnerable position given the slow growth in the topline over the years. The Average Revenue Per User (ARPU) is around $1 currently which is significantly less than the $9 figure of 15 years back when these companies started operations. 
But, the telcos are partly to blame for this situation. They have been late to innovate and realize that the conventional model is not as robust as it was a decade ago. 
The immediate remedy for this situation might come as a mobile tariff hike which the PTA indicated in its official communication earlier this month. However, the long term solution for this would be a strategic one given that the Telcos can't control energy prices which are likely to increase further. 
A senior Telecom official while talking to Profit suggested the following remedies to the industry and regulators to expand industry-wide revenues; bringing in more cellular users to mobile broadband net, reducing taxes on smartphones as its upfront cost is the biggest barrier for bottom of pyramid users to own smartphones, regulatory cover by PTA to encourage operators and micro credit providers to launch smartphone installment scheme.
Further, the CMOs should focus on the 4G multiplay, meaning an operator shouldn't just remain a pipeline but a destination as well for its customers. Users should spend more time on the network by using its digital apps thus, generating incremental revenue.
(Read more about this in Profit's article: The changing dynamics of the telecommunication market)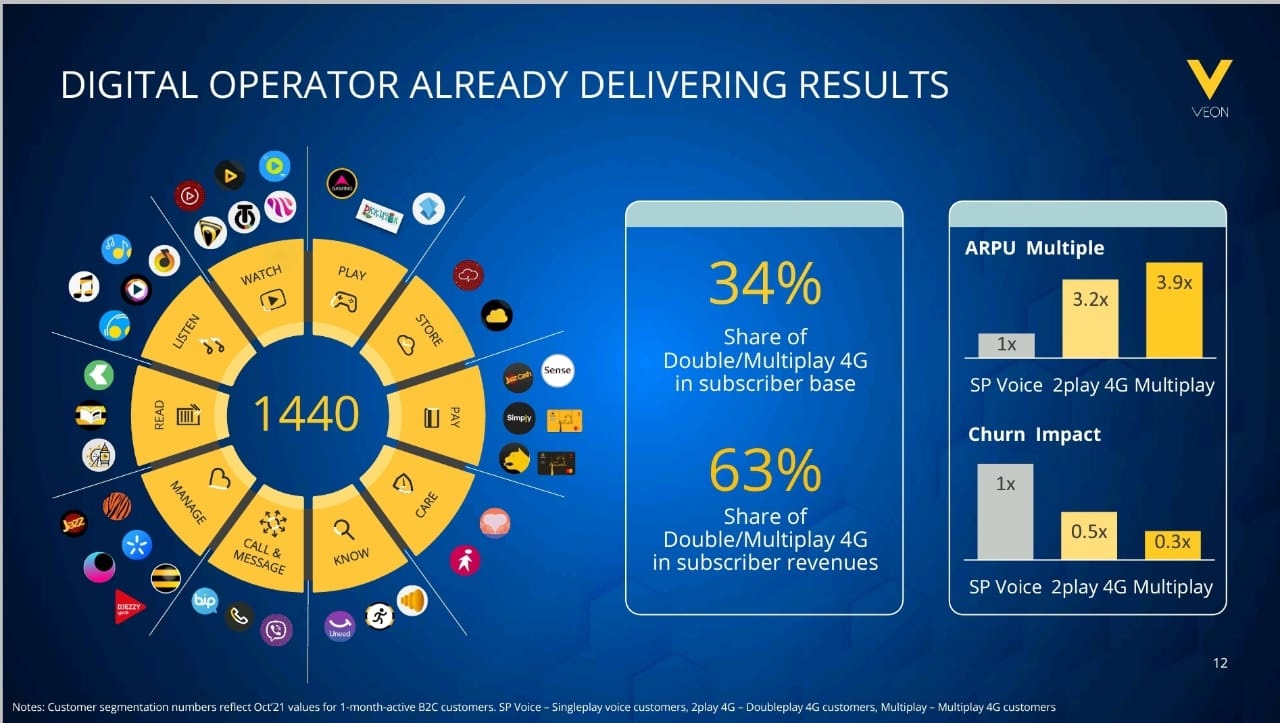 Source: Veon
While on the energy consumption front, long term investment in renewable sources like Solar seems as the obvious solution, "There is an increasing focus on solarising telco sites and adding additional battery backup. As electricity from the grid and international oil prices see an upward trend, and the price of solar panels plummets, the time is right to shift to solar energy." Salman Khalili, Head of Telco, Reon Energy said in an interview with TowerXchange.