They're not the fanciest, nor the flashiest, and heck they sometimes don't even have an air-conditioner. However, we all know that, regardless of how many Formula-1 races you watch, if you're on a budget then a Suzuki is probably one of the first, if not the first, car that comes to your mind.
The thing is, a Suzuki has always been both an aspirational purchase and guilty pleasure for many. It's the first car many of us buy and also what we end up getting whenever our budgets are limited. And this is likely to not change anytime soon. 
Why do we say this? Well, that's because Suzukis have always been the most affordable if not the most reliable car company in Pakistan. Pak Suzuki Motor Company (PSMC) knows this, and they have milked itfor the better part of some four decades in Pakistan. So much so that customers now pay premiums to continue buying Suzukis unlike its category competition. 
Profit looked at Road Prince's Prince Pearl, United's Alpha and Bravo, and the KIA Picanto and compared them with the entirety of PSMC's hatchback portfolio. What did we find? That these cars are retailing for discounts whereas PSMC's portfolio is trading for a premium. Now, cars trading for discounts or 'off-payments' have steadily become ubiquitous in the current automotive market on account of the macroeconomic situation. 
Read more: Why are some cars being sold for below showroom price
There is unfortunately no hard data available to show how many units of each car were sold. Unlike PSMC, which is part of the Pakistan Automotive Manufacturers Association (PAMA), companies like KIA and Road Prince do not release their sales figures. In the absence of absolute figures, we can look at how these cars are selling on the secondary market relative to their invoice price – since these market rates signify how both investors in the automotive industry and customers in the automotive space value a vehicle. 
Article continues after this advertisement
Read more: The lopsided market structure of the automobile industry 
We looked at 599 passenger cars in the used market with each model being subjected to a sample size of 30 at minimum wherever possible and compared the prices of those vehicles with their current ex-factory invoice prices. Profit found PSMC's vehicles to be trading for Rs 138,079 above their invoice prices in the second-hand market whereas the non-PSMC vehicles were trading for Rs 196,786 below their invoice prices in the secondhand market. The difference in the clearing prices are colloquially referred to in the Pakistani automotive market as 'on' and 'off' respectively.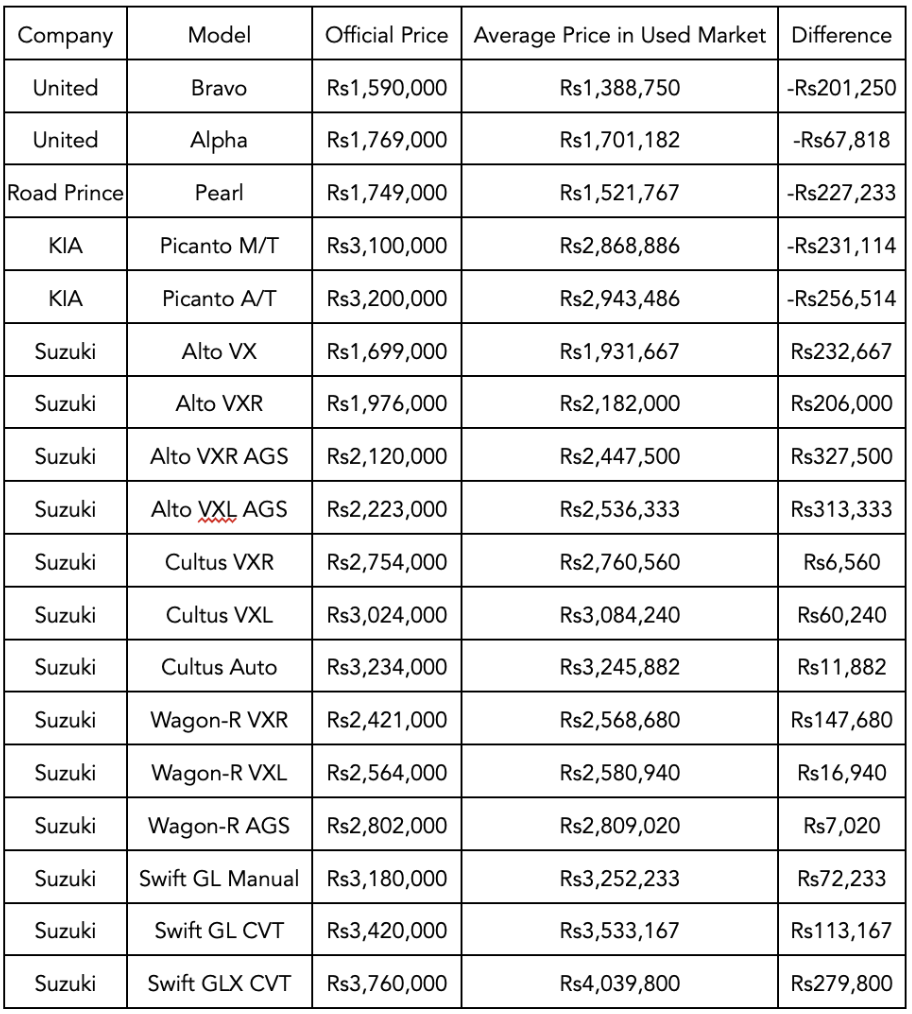 Why are these on and off indicators relevant? Shouldn't customers be happy affordable vehicles have become more affordable? Why is anyone paying a premium for a Suzuki? What's going on in general?
The struggling competitors 
Here is the crux of the situation. PSMC is big. Very big. New entrants like Lucky Motors, United, and Road Prince sought to take it on in its home turf by launching similarly priced cars, but found that the market responded poorly. While the cars were in the same category, they had higher maintenance costs and fewer showrooms. This is what you would call a double whammy. It dampens demand whilst also restricting supply. The market did not bite, and Suzuki continued on its merry way.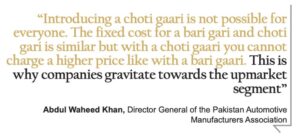 Where it lacks in the media spotlight hogged by its Japanese brethren, it makes up for in total sales volume. How much does PSMC achieve in passenger car (specifically this segment) sales? Well, more than Honda Atlas Cars (HCAR) and Toyota Indus Motor (INDU) combined for the past 10 years. Looking at figures published by PAMA, INDU and HCAR combined sold 804,148 passenger cars from FY 2011-12 till FY 2021-22 whereas PSMC sold 1,003,003 in the same time span.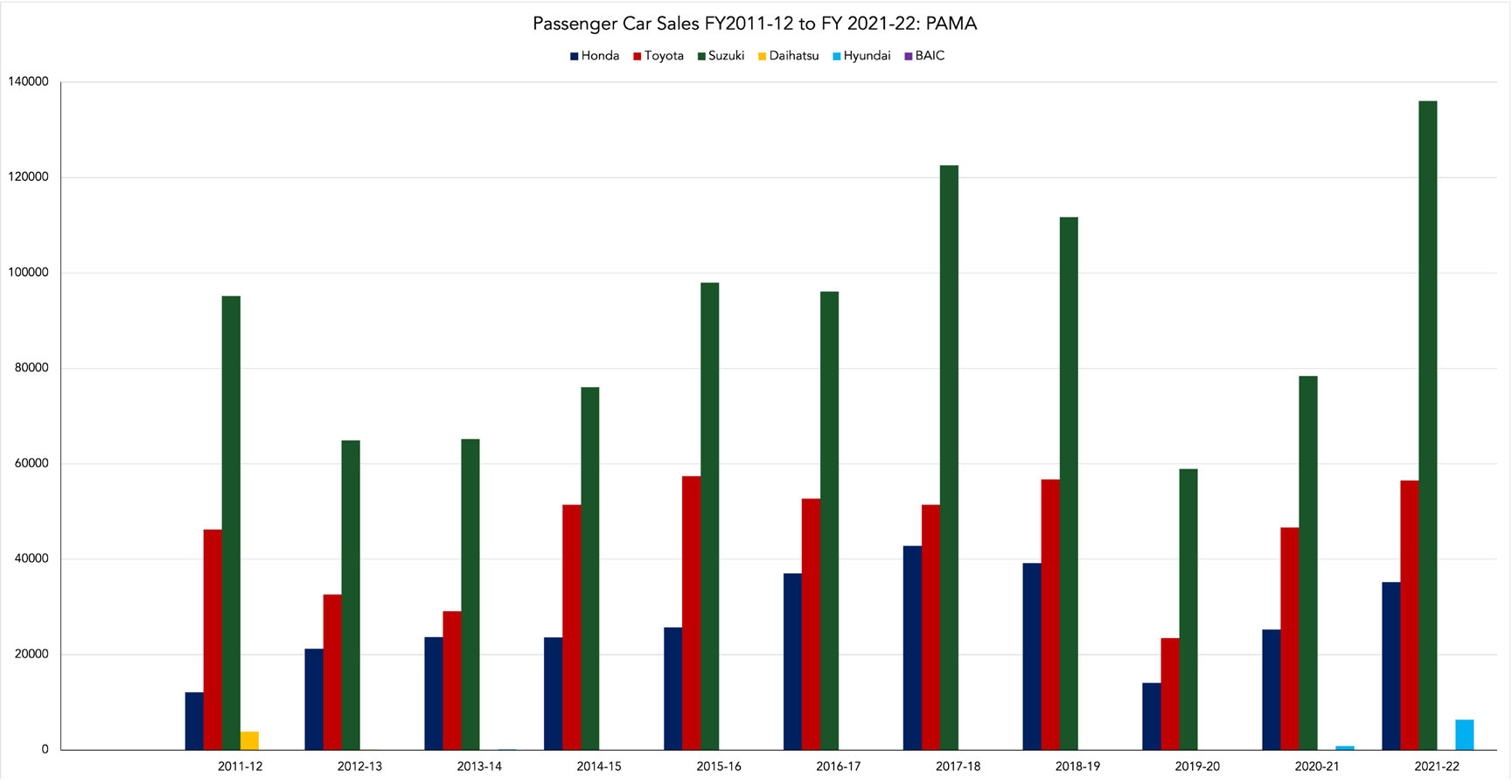 In a situation such as this, looking at the premium and discounts is actually a better metric as it acts as an indication of that model's popularity irrespective of the scale of its competitor. There are two reasons for this: PSMC's inherent advantages and the mistakes made by competitors.
PSMC's first inherent advantage is that customers that are on a budget are likely to want to ensure that their car's maintenance is also budget-friendly. This may sound rather rudimentary, but it's important. Profit spoke to dealerships for all the aforementioned manufacturers and there was one sentence that was consistently reiterated to us: "Sir, unees-bees (19-20) ka farak hai parts ki keemat mai". When asked as to which of the two was the 20 and which the 19, all of them highlighted how PSMC's vehicles undercut theirs in terms of parts. 
The thing is, parts are an active consideration for any prospective vehicle buyer in Pakistan. Particularly one that is on a limited budget. Doesn't make sense does it, to want to get an affordable vehicle and then pay premiums for its upkeep? Not to Profit, and surprisingly not to many customers. However, the other companies ought to be given the benefit of the doubt. It's unlikely anyone can compete with any of the 'Big 3' simply due to the sheer time they've operated for. 
Time and volume have allowed PSMC alongside INDU and HCAR to create robust local supply chains. PSMC in particular boasts some of the highest levels of localisation based on the statistics shared by the Auto Industry Development and Export Policy (AIDEP) 2021-26. The rest are all newer entrants, and subsequently any expectation for them to achieve similar supply chains would be unfair. The fact that they are the 20 to PSMC 19 in terms of parts is alone an achievement. However, a customer is likely to make a decision based on his wallet and a company's limitations.  
A Road Prince and United dealership even highlighted how PSMC's parts could be utilised for the maintenance of their respective vehicle to keep cost down if we were to commit to our purchase. Not the best way to advertise your budget friendly vehicle, now, is it? 
The second advantage that PSMC has is its ubiquity. This time, we don't mean its sales volume but just sheer availability. In terms of dealerships, PSMC has 22 in just Lahore. In contrast, Lucky Motors' KIA brand has six, Road Prince has four for its cars and United Autos only has one across all of Lahore. If we were to assume marketing budgets, it is likely that PSMC would reign supreme again, but disregarding that, people are generally more likely to buy a car that they can see that others have, is widely available, and can be easily bought. This is a somewhat of a chicken and egg problem: do you deploy capital first and wait for volume to pick up or do you spur sales and deploy capital afterwards?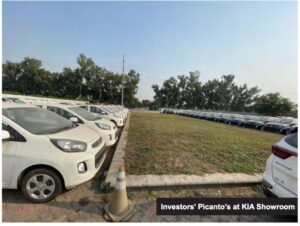 Unlike Road Prince and United, Lucky Motors benefited from the success of its KIA Sportage and the Peugeot 2008. Road Prince, like Lucky Motors, and unlike United, also employs a corporate strategy to compete across multiple segments. However, unlike Lucky Motors, its DSKF brand does not enjoy the brand equity that Lucky Motors does on account of the aforementioned two models. What does all this mean? In a nutshell, even if someone did want a United Alpha and Bravo, a Prince Pearl, or a KIA Picanto, they'd have to go looking around to find one. And whilst they look for a showroom to get their prospective car, they will have to stave off their desire to pull the trigger and buy a Suzuki from the myriad of PSMC showrooms they run into whilst hunting for a singular one offered by the competitors. 
The big mistake 
So here's where we are. Suzuki cars under the 1300cc segment are selling for more than their invoice price while new competitors that threatened to be competition for Suzuki are seeing demand for their cars flounder in the market. One could perhaps forgive this mistake on account of how new some of these companies are, but there was also a sense of recklessness in how they decided to enter the market. 
Look at it this way: Suzuki's competitors sought to take on the largest player in a segment without the benefits of being an incumbent, and they did so with a weak hand. What does that mean? None of the aforementioned competitors is a cutting edge model by any means. Some are even redundant globally. 
Let's start with the KIA Picanto. The Picanto in Pakistan is the second generation model that was introduced in 2011, and was then phased out globally in 2017 when its third generation model was introduced. United's Alpha is in a similar boat. Globally, it is known as the Chery QQ. The Alpha is the 2012 facelift variant of the first generation QQ that was unveiled in 2003. This model was globally phased out in 2015 with the introduction of the QQ's second generation model. Similarly, the Prince Pearl is based off the 2017 Yika E7. Finally, in an aberration from the trend of famous outdated models, the United Bravo is based on the obscure Dahe DH350S. Its obscurity is an aberration from the other renowned outdated models but that's about all that United perhaps thought with this.
However, it would be remiss to not highlight that the decision to bring these particular models may have to do with factors other than just the companies wanting to maximise their profit margins. "Introducing a choti gaari is not possible for everyone. The fixed cost for a bari gari and choti gari is similar but with a choti gaari you cannot charge a higher price like with a bari gaari. This is why companies gravitate towards the upmarket segment," said Abdul Waheed Khan, Director General of PAMA. To expect any of the competitors to have economies of scale similar to PSMC would be to needlessly scrutinise them. They had to cut corners but it's not like PSMC was going to let them get away with it. 
The situation till now seems like this was always an uphill battle for the new entrants. And well, it was always going to be. "Suzuki is a household name in Pakistan. It established its market over decades. These competitors are new, it will take some time." said Khan. 
Price sensitive customers are likely to be less willing than their more spendthrift counterparts to try newer brands simply because of how much more costly that decision is for them. In business terminology, this is known as the moral hazard problem. Road Prince and United may have the best vehicle ever but the customer does not know that. The customer will likely never have complete information regarding the vehicle, and it is thus in the customer's interest to minimise his risk based on available information. This is where PSMC's ubiquity helps and where the lack of the competitor's ubiquity undermines them. 
Road Prince and United in particular find themselves in the precarious situation where they are not particularly premium even in the motorcycle segment. Now where it is true that their reputation for reliability and affordability in the two-wheeler market may have transferred into the four-wheeler market, it is also true that prospective car buyers may just think them to be lower quality. Whether this assumption is valid or not is debatable, but it does reflect itself in sales. There is a higher cost for a customer in this category to try these two brands than to stick to something reliable such as PSMC. That, however, does not hold true for the younger sibling of the KIA Sportage. 
The KIA Picanto actually managed to make some initial strides, and then proceeded to shoot itself in the foot. The Picanto was able to benefit from the brand equity that its elder sibling had made for itself. In a price sensitive market, if customers can have a product that is associated with a larger premium brand then why wouldn't they? And, people did flock to the Picanto. It almost seemed like it would do the impossible. Till Lucky Motors suspended bookings for the automatic variant entirely. 
On account of parts issues, Lucky Motors suspended bookings for the Picanto from January till September of this year. Throughout this time the only way to acquire a Picanto for yourself was through the second-hand market. Investors had hoarded however many Picantos they could during this time as they became the exclusive point of sale for them. 
Investors were hooked on the Picanto so much so that a large chunk of the Picantos that were delivered by Lucky Motors after it initiated delivery and restarted bookings were the ones investors had bought on old invoices. And this is where we have a problem. The demand for the Picanto went off a cliff when bookings for it had been closed for so long. Simultaneously, investors hoarded them. Eventually, you had a glut of Picantos that very few people wanted to buy. 
The ramifications of this are easily visible to anyone who visits their nearest KIA dealership which has some form of lot or extra space available. That is where you will see lines upon lines of Picantos ready for the picking. Profit actually went to one KIA dealership where we were told that if we purchased the car via the regular booking then we'd have to wait a month and pay the invoice price of Rs 3,200,000. However, if we wanted to take it out of the showroom with us today then we'd only have to pay Rs 2,900,000. 
We're as shocked as you are. We were told that the showroom simply wanted to clear out all the stock investors had laddened them with. Whilst Profit tried rationalising how many Picantos must have been hoarded, the sales representative promptly texted us the next day to tell us that he'd lowered the rate to Rs 2,850,000 "just for us". Quite a bargain, in all honesty. But not perhaps how you would want to market a car. 
Though the investors will make lucrative returns due to the difference between their purchase price and the current invoice price, the resale value for the Picanto tanks in the short-run. In a market where cars are treated as asset classes, this is a cardinal sin. One that KIA in particular is all too familiar with and one that Profit has already documented. 
Read more: The KIA Sorento 101 – How not to price a car
To put it briefly, the competitors had fewer outlets, higher maintenance costs, outdated models or models based on obscure cars, suffered from a higher instance of moral hazard, and the one car that did avoid the moral hazard problem had its supply chain self-destruct for half a year. All whilst they went up against the biggest and oldest member of the Big 3. It's not hard to see how PSMC dominated them the way that it did. The question then is how dominant is the incumbent? But is there more to PSMC's imperiousness in this segment?   
Looking at the affordable giant
We've established that PSMC is big but that's just half the story. It's big in specific ways or categories. The numbers work out to PSMC having sold 18,078 more passenger cars on average than INDU and HCAR combined over the 10 year period. Now, the magic in that number is that PSMC primarily makes passenger cars (this is why we focused on this), and that too in the more affordable segment of the market compared to INDU and HCAR. 
Breaking down PSMC's numbers over the past decade, only 5% of its sales were for vehicles that can be deemed to be 'premium'. The 5% sales that lay outside the affordable category include the now discontinued Suzuki Liana, and the Suzuki Swift.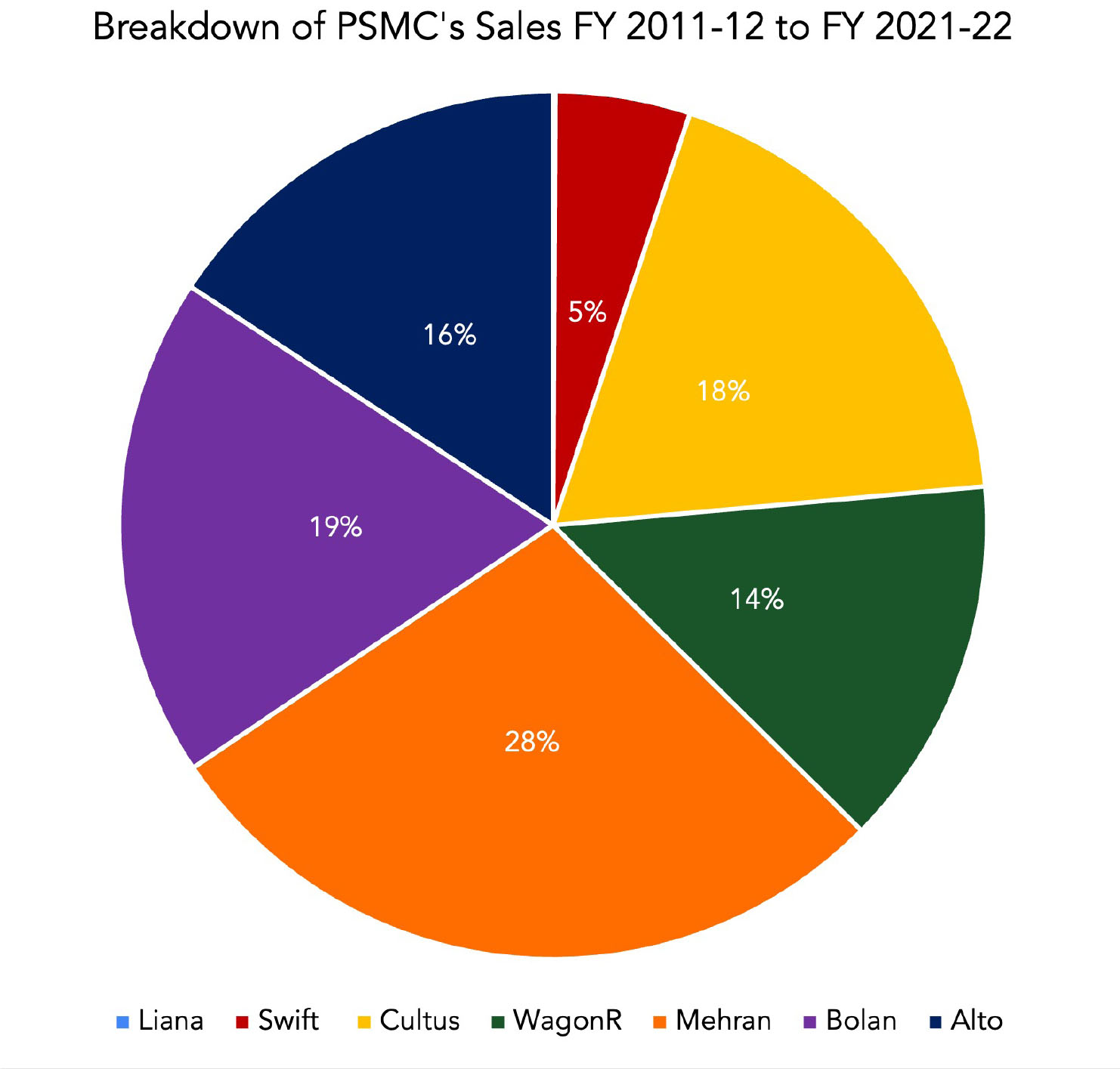 Is there another metric other than just gross sales for PSMC's dominance of the segment? Profit sought to use the Herfindahl-Hirschman Index (HHI) as a metric. It is the most commonly used measure by regulatory agencies to assess the degree of competition in an industry. The lower the value of HHI the more intense the degree of competition. A threshold level of HHl adopted by regulatory agencies, including the Competition Commission of Pakistan (CCP), is 1,800, beyond which the market is considered as not meeting competitive norms. 
How does PSMC rank based upon HHI? Almost a monopoly in its own segment. The 1000cc segment had an HHI of 9,090, 10,000, and 8,500 in 2010-11, 2014-15, and 2020-21 respectively. What does that mean? That means the segments are almost a monopoly, if not one in some years. Who is the monopolist in the market? PSMC.
Similarly, the 800cc segment had an HHI score of 6,924 in 2010-11 and 10,000 in 2014-15. Scores for 2020-21 could not be found. Who was the leader in the 800cc segment? Well, it was Daihatsu and Suzuki in 2010-11 and just Suzuki alone in 2014-15. These scores were a result of reports by International Growth Centre (IGC), Institute of Development and Economic Alternatives (IDEAS), and the Pakistan Institute of Development Economics (PIDE) respectively. 
Looking at the HHI score, the 1000cc and 800cc market has been almost a monopoly for the better part of a decade. And in that monopolistic structure, PSMC has reigned  with only Daihatsu managing to play stand up to Suzuki at one point. The question then one might ask is what happened to Daihatsu? It was, after all, a subsidiary of another member of the Big 3, INDU. 
Well, sticking with the theme of PSMC's opponents, they too took the segment very lightly and shot themselves in the foot."When the Euro II fuel standards were introduced, Daihatsu failed to become compliant and was thus phased out." Khan told Profit. When asked the official date of Daihatsu's demise, i.e. when it was phased out and it ceased being a member of PAMA, Khan said 2012. This aligns adequately with the HHI findings in 2014-15 when PSMC had a field day with the segment.

Will this dominance ever change and is it intentional? Well these are different stories entirely.  
Suzuki's faustian bargain 
The gist of the matter is that PSMC is unlikely to be beaten at their home turf anytime soon. However, at the same time, PSMC is also stuck inside their home turf. Of the 5% of sales attributable to the Suzuki Liana and the Suzuki Swift, the Liana in particular comprised 0.08%. Therein lies the problem. 
The Liana was eventually discontinued because of the lack of demand for it. But it's not like that was something PSMC was overjoyed about. The Suzuki Liana was the successor to the Margalla and the Baleno, and the predecessor to the Ciaz and Kizashi. There are two very clear commonalities here amongst all of them: they are sedans and they never caught on in Pakistan. PSMC's domination of the affordable segment has in effect hampered its progress in the more premium segments. The Swift for all intents and purposes is still an affordable vehicle when compared to INDU and HCAR's offerings. 
PSMC's supply chains and production methodology are just tuned to the affordable segment. In the instances that they did try to completely abandon their inherent advantages to make something premium, well their reputation acts as an impediment. Customers associate them with affordability and not luxury. It is hard for anyone to justify paying the same price for a Suzuki as a Toyota or Honda if that vehicle is outside the affordable segment. Just look at PSMC's own track record to see the gravity of the problem. 
Is PSMC cognisant of the problem? Most likely. Hence why they continuously try to creep into the more expensive segments in the industry such as with their offerings at this year's auto show. However, this does provide a lesson here for everyone. Particularly, if we look back at the aforementioned availability Picanto debacle. 
Customers may be hesitant to move upwards in a brand's portfolio if that brand is entrenched in a lower price segment such as with PSMC. However, the reverse does not hold, at least not as concretely. Lucky Motors' KIA brand is, whether or not they like it, synonymous with the KIA Sportage. Therefore, customers that may not be able to afford a Sportage can still take comfort from the fact that they have a sibling of the Sportage. In their minds, they are getting a premium brand. This reduces the aforementioned search cost that is likely to be higher for more price sensitive clients. 
So could PSMC be beaten if a company entrenched in the upper price segments seeks to expand its product portfolio downwards? Hypothetically. Now if only all these companies had maybe read this before they did what they did. Or if the Picanto had actually managed to be available when people wanted to buy it. 
However, till then the Alto will likely have smashed some new ludicrous sales record.