Owning a bank is a pretty big deal, even for the very rich. This is true not just in Pakistan but all across the world. Just look at Malik Riaz of Bahria Town fame, who by some accounts is Pakistan's richest man. Riaz has wanted to buy a commercial bank since the early days of his ascent but has seen his efforts blocked on account of not having a 'clean' enough reputation to be trusted with depositor's money. 
And he isn't the only one. Albeit for different reasons, Habibullah Khan of Mega Conglomerate, a self proclaimed Pakistani billionaire's bid to acquire Meezan Bank in 2013 was also shot down by the regulator. And much like this, every Pakistani billionaire has either tried to or dreamed of owning a bank at some point or the other. Very few have managed.
And yet, here we have Jahangir Siddiqui, the owner of JS Bank and a leading stock broker, who in BankIslami, is about to buy his second commercial bank. If the transaction goes through, Siddiqui, according to one interpretation of the banking law, will become the first to own and operate two Pakistani commercial banks at the same time. 
Naturally not everyone is particularly happy about this. One of the persons at the forefront of this battle is obviously Aqeel Karim Dhedhi — another leading Pakistani stockbroker whose legendary rivalry with Siddiqui is well-recorded. And while the antagonism between the two stockbrokers meant it was always a foregone conclusion that Dhedhi would go to court over the BankIslami issue, it seems he is not alone. 
There are a number of other voices in the financial industry that suspect Jahangir Siddiqui of foul play. And unlike Dhedhi, these voices seem to have no personal scores to settle with Siddiqui or his JS Group.
Dhedhi's beef: It is illegal to own two banks, but is it?
Article continues after this advertisement
There is a very technical legal question at the centre of Dhedhi's case. Because at the end of it it boils down to this: can one man own two banks? The jury is still out on the answer with the court case being fiercely contested in the Sindh High Court (SHC). 
Essentially, the case hinges on two points. The first is very simple: that Jahangir Siddiqui is not fit and proper to buy a bank. According to the case filed by Dhedhi, Siddiqui is a controversial person who has been accused of many fraudulent activities and hence like Malik Riaz, should not be allowed to own a bank in the first place. Dhedhi obviously forgets to mention that it was Dhedhi himself who had made most of these allegations against Siddiqui in the first place. Not to mention that Siddiqui already owns a bank which means the State Bank has once before screened and greenlit his ownership of a bank. 
This is the simpleton's argument. It is a polemical point made a part of legal proceedings simply to irk the opposing party. The real question can be found in the second part of the case where Dhedhi points out that according to the banking laws of Pakistan, one business group is not allowed to own two or more competing banks.
You see, normally when a bank buys another bank the two financial institutions merge into one entity. But unlike previous M&As in the banking industry, Siddiqui does not plan to merge BankIslami into his JS Bank. Instead he plans to continue running BankIslami as BankIslami, i.e. completely separate from JS Bank. The only commonality between the two banks would be the sponsor shareholder, the JS Group which inturn means Jahangir Siddiqui himself.
For now, the court has granted Dhedhi a stay order until the next hearing, which is due today (Monday, 20th of March). But that's the easy part. Courts are quite liberal with handing out stay orders and halting progress on all manner of things until they make up their minds. What is important, however, are the legal arguments that will be presented in the courtroom over the next few weeks. Because as far as the law goes, it is illegal for one business group to own two banks. But is it? 
Take the example of Mian Mansha, who also owns two banks in the shape of MCB Bank and MCB Islamic Bank. Now, while this is an example of one person owning two banks, it works because the SBP in order to encourage islamic banking in Pakistan, does allow all conventional banks to open new Islamic banking subsidiaries as separate legal entities. And this is exactly what Mansha had done when he had opened his MCB Islamic bank as a fully owned subsidiary of his main bank, MCB bank.
Jahangir Siddiqui is relying on the same principle. Since BankIslami is an Islamic bank that is being acquired by JS Bank, the JS Group should technically be allowed to buy the bank. However, Dhedhi in his court case against the acquisition has claimed that this technicality does not hold because the rules do not allow for one bank to buy an already established bank and make it into its subsidiary, even if the bank being bought is an Islamic bank. The exception is for setting up a new legal entity Islamic Bank, not for buying an existing one. 
The question is both the letter and spirit of the law. On the one hand, there is an exception that allows the same group to own two banks if one of those banks is an Islamic bank. However, the purpose behind that exception is to promote the introduction of new Islamic banks. In the acquisition of BankIslami, JS Bank is simply buying an existing Islamic bank and not introducing a new lender in the system. 
The JS Group obviously finds Dhedhi's interpretation completely frivolous. According to them, as far as the law is concerned, there is no difference between opening a new Islamic bank subsidiary, or buying an existing Islamic bank and converting it into a subsidiary company. Both are allowed. Obviously, there would have been no question of interpretation had Jahangir Siddiqui acquired a conventional bank and tried to run it separately, as a subsidiary of his JS Bank. That would clearly not have been allowed. The JS Group and its legal team seem confident that the objections raised by Dhedhi will soon be dismissed by the courts and the transaction will go through as planned.
Foul play by JS, SECP and everyone under the sun?
But this isn't where it all ends. While the legality of the acquisition itself is being challenged in court, there are others in Pakistan's finance industry that are pointing towards much bigger problems in this transaction. In fact, claims have been made that the JS Group through possible stock price manipulation and regulatory capture done with the connivance of the corporate regulator and the Pakistan Stock Exchange (PSX) management is shortchanging minority shareholders of BankIslami. 
However, to understand the basis of these very serious assertions, we first need to understand some specifics of this deal, as well as the regulations that govern such deals, and the recent changes made to these. 
Let's start at the beginning. What does it look like when you try to buy a bank? Imagine you are the owner of a big business group, and one day you decide to enter Pakistan's islamic banking industry. But starting afresh is not your style, so you decide to try and buy a 51% controlling stake in BankIslami, the third largest Islamic bank in the country. The bank has a total of a billion plus shares, only some of which are regularly traded on the stock exchange. 
You do your homework and notice that approximately half of the total shares are owned by four big shareholders, while the rest of the half are owned by 20,056 shareholders, most of whom own only a few hundred shares each. The only real way to go about acquiring the 51% shares is to go to the four big shareholders. The only other route would involve your broker first buying all the shares available on the PSX followed by approaching the tens of thousands of sellers that aren't active on the stock market. 
This would mean that very quickly shareholders would realise that there is a big fish in the market, and the price of the share would skyrocket. The ones selling the last lot of shares required to get you to 51% majority shareholding are the most difficult to convince. In all likelihood, you fail to get majority shareholding or get it at a very steep price.
The preference of the acquirer is always to convince a few big shareholders of the target company and strike a deal with them instead. These large shareholders are usually the sponsors and directors of the target company, and it's just so much easier and also cheaper to get majority control this way. The acquirer would normally offer them a reasonable premium over and above the market value of their share and if they agree to sell, that's that.
But is it? It would be wise not to jump the gun since this would also mean the smaller shareholders of any company would almost always lose out on these once in a lifetime opportunities that offer an exit at a premium above the market price. And the good news for the minority shareholders is that the Securities & Exchange Commission of Pakistan (SECP), the company's regulator, does not like this. And it has a law that ensures that the minority shareholders also get an equal opportunity to exit at a premium in such takeover bids. Basically the acquirer can make all the one-on-one deals it wants with the big shareholders, but the SECP still binds the acquirer to also make an offer to purchase at least half of the shares held by minority shareholders. 
So in the case of JS Bank's bid to acquire majority shareholding of BankIslami, JS Bank has already announced that it has a deal with two big shareholders of BankIslami, namely the Randeree family which owns 19.5% and Jahangir Siddiqui and Co Ltd, which is also the holding company of JS bank and owns 21.3% of BankIslami. Now JS Bank itself already owns 7.8%, and if we add all three up, it takes JS Bank to 48.6%. Just a little short of the magic number of 51%. This is where the deal with Sumya Developers, a relatively small shareholder with 1.7% stake of BankIslami comes in. Assuming all regulatory approvals come in, this would take the tally to above 50%, allowing JS Bank to have majority control of the islamic bank.
Do you remember that SECP law meant to protect minority shareholder rights? This is where it comes in. You see, despite JS Bank already having struck deals for majority control and thus not needing to buy more shares from the other 49% shareholders, this law would still force JS Bank to make an offer to acquire a minimum of 50% of the remaining shares, owned mostly by small shareholders. 
Not just this, the law also dictates a minimum price per share that the minority shareholders are to be offered, and this price can not be less than what JS Bank had agreed to pay to three majority shareholders. But that would still leave the possibility that the acquirer, in this case JS Bank, and the majority shareholders under-declare their deal price to the SECP. To address this, the price offered to minority shareholders is calculated using five different methods, and the method that gives the highest price is the one offered to the minority shareholders. 
Common sense would dictate that since every shareholder, whether small or big, is offered the same price and that shareholders have a right to either accept to sell at this price or refuse and stay on as a shareholder, there should be no reason to worry about mistreatment to the minority shareholders or for that matter any shareholder in any such acquisition deal. However, in reality there remain many loopholes, and amazingly the main one was added in our companies takeover regulations as recently as September 2022.  
Regulation changed, loophole created; JS first to exploit
Up until September 2022, if minority shareholders opted to sell their shares during an acquisition they were to be settled in cash. However the new amendment allows acquiring companies to decide whether they want to settle the price decided through the above mentioned mechanism through cash or in kind. This one change has potentially rendered the whole exercise of mandatory public offerings redundant. And JS Bank was the first to take advantage of this, raising suspicions as to whether these changes were made by SECP on purpose to please the JS Group in particular. When Profit asked SECP  for the reason for this change in takeover regulations, it said, without giving any reference, that it was done to align the regulations with the Securities Act of the country. So how exactly was the new regulation exploited?
Modus operandi
If JS Bank wanted to avoid buying shares of BankIslami that the SECP is mandating it to, one way could have been to offer a really low price that would have been unacceptable to the sellers. But as explained earlier, because of the very thorough process in place to determine the minimum price that needs to be offered to the remaining 49% shareholders of BankIslami, JS Bank had to think of some other strategy to circumvent having to buy more shares than it wanted. The good people at JS Bank must have said to themselves: so what if the regulations do not allow us to give a low offer for BankIslami shares? We could still make it a bad deal for the minority shareholders by offering them shares of unwanted companies instead of offering them the usual cash. All thanks to the new change in regulations that allow for in kind payment.
So on March 7th that is exactly what JS did. The bank disclosed to its shareholders that instead of cash, it plans to offer shares of JS Global Limited and JS Investments Limited, both group companies, to the other 49% shareholders of BankIslami.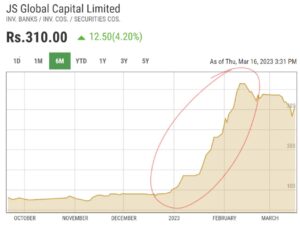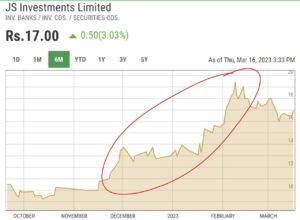 There are at least three problems with these two shares that make this offer a very bad one for BankIslami shareholders and is equivalent to taking away their legal right to benefit in a takeover bid.
Firstly, the shares of both JS Global and JS Investments are largely illiquid, meaning it would not be easy to sell them in the market. Secondly, both these companies are not Shariah compliant, meaning offering such shares against shares that are Shariah compliant might be a non-starter for many shareholders of BankIslami for religious reasons. Lastly, and probably most importantly, the price of JS Global shares has increased by an astonishing 4 times since the last three months, while the price of JS investments shares has also increased substantially during this period. This would mean that in an exchange, as shares of both these companies would have a higher value than usual, shareholders of BankIslami would get fewer shares of JS Global and JS Investment now, were they to opt for the exchange.
Profit reached out to JS Group to enquire for the possible reasons for this steep increase in prices of these shares, despite the overall bearish sentiment in the PSX, but they chose not to respond. Profit also reached out to Farrukh H. Khan, the CEO of PSX, to ask why, unlike their usual practice, in this case the PSX has not asked the companies concerned to give reasons for this unusual increase in their share prices. A one line response was received: "we have no comments on this matter at this point in time".
Playing the devil's advocate; the case for JS Bank
Let's take a recap of the situation: Jahangir Siddiqui's JS Bank is on a mission to acquire a majority shareholding in BankIslami and make Jahangir Siddiqui the first person to own two commercial banks in Pakistan at the same time. On the path to that mission, JS Bank is fighting off a court case that claims one business group cannot own two banks at the same time and that Siddiqui is exploiting a loophole for Islamic Banking to get his way. And that isn't the only loophole being exploited: recent changes in SECP regulations have left minority shareholders shortchanged once again through technicalities. 
The JS Group and JS Bank have not responded to Profit's queries despite multiple attempts to reach them. However, to understand the decisions being made at JS, your correspondent spoke to a number of industry experts and gathered some background information to craft what a hypothetical reply in support of Jahangir Siddiqui and his group would look like:  
The thing to understand is that this is not a delisting transaction in which shareholders have no other choice but to accept the price being offered to them. In a delisting they have to accept what is being offered, even if they feel that they are not being compensated fairly. However, in this case BankIslami's shareholders are being given an option to sell their shares if they wish to. If some, or even all of them feel that they are not getting a good enough price or do not like the 'in kind' option of payment, they are absolutely free not to sell. No one is forcing them.

BankIslami is a good share and after the majority acquisition by JS Bank, there is no reason that the share will not perform even better. The folks over at JS are also likely to point towards the example of the Zindagi App by JS Bank, which has successfully transformed a brick and mortar bank into a truly digital bank. No other bank has been able to do this. They have invested a lot of money and effort in making this state of the art app, and with BankIslami becoming a subsidiary of JS Bank its customers will also benefit from the tech platform created by them. This could be one of the examples JS Bank uses to claim that BankIslami shareholders will in fact greatly benefit from this acquisition.

All this ruckus is being created by only those shareholders who bought BankIsami's shares only to make a quick buck. You see, as soon as the market realised that JS Group was interested in buying majority shareholding in BankIslami, some greedy players in the stock market started buying shares of BankIslami and drove up its share price. They thought that when JS Group would make a public offer, which it is mandated to do as per SECP regulations, they would sell these shares at a higher price to the acquirer and make a quick buck. Now this quick buck would have been made at the expense of shareholders (both majority and minority) of JS Bank.




What these people did not realise was that regulations had recently been changed which allowed for in kind payment now. So now that JS Bank was legally allowed to make a public offer in which it could pay BankIslami shareholders with shares of listed companies that JS Bank owned, instead of using its own cash, it was only prudent that JS Bank used this newly available option. Had JS Bank offered cash to acquire these shares, they could reasonably say it would have violated the fiduciary responsibility of JS Bank towards its shareholders. This is especially true in a high interest rate environment where this cash could have been deployed much more profitably, say in government bonds which are paying record high returns.

This obviously means that the bet made by some investors on BankIslami shares did not pay off. But like in every transaction there are winners and losers. It is important to note that this was all done as per the law and if the law allows something it is natural for companies to make the decision which is in the interest of their shareholders, as long as it is within the law. 
SECP and the part we still can't wrap our heads around
So what have we learned? The JS Group and JS Bank are awfully quiet about their controversial attempt to buy BankIslami. And while some of the mud is being thrown by old rivals, there are genuine concerns and possible responses from the JS Group.
The case is for the courts and the regulators to decide. However, the attempt to buy BankIslami may not go down even less smoothly than had already become evident. According to a response received by Profit from the SECP, the regulator is "reviewing its rules and regulations on an ongoing basis". While the commission, despite being specifically asked, did not clarify further whether they would make any changes before or after the JS deal, there is clearly room still for the SECP to throw a spanner in the works. 
Pakistan is not the only country where an offer for in-kind returns to minority shareholders during an acquisition is legal. However, there are ways to avoid acquirers exploiting the situation. But since the SECP has not been clear on the issue, it is anybody's guess whether Jahangir Siddiqui will be able to squeeze out of this loophole or be pushed back with a slap on the wrist. 
Because at the end of the day this entire episode is far from squeaky clean. Even if one believes the argument that there was no regulatory capture by JS Group or other future beneficiaries of this change in regulation, there are some issues that even Profit's pro bono devil's advocate could not explain.
It could not explain the astonishing increase in the share prices of JS Global and JS Investment in the past few months, especially considering the performance of the overall stock market. It could not explain why Jahangir Siddiqui Co Limited would accept only 1.138 shares of JS Bank which are trading at less than Rs 5 at the moment, in exchange for every share of BankIslami presently trading at close to Rs 11 in the market.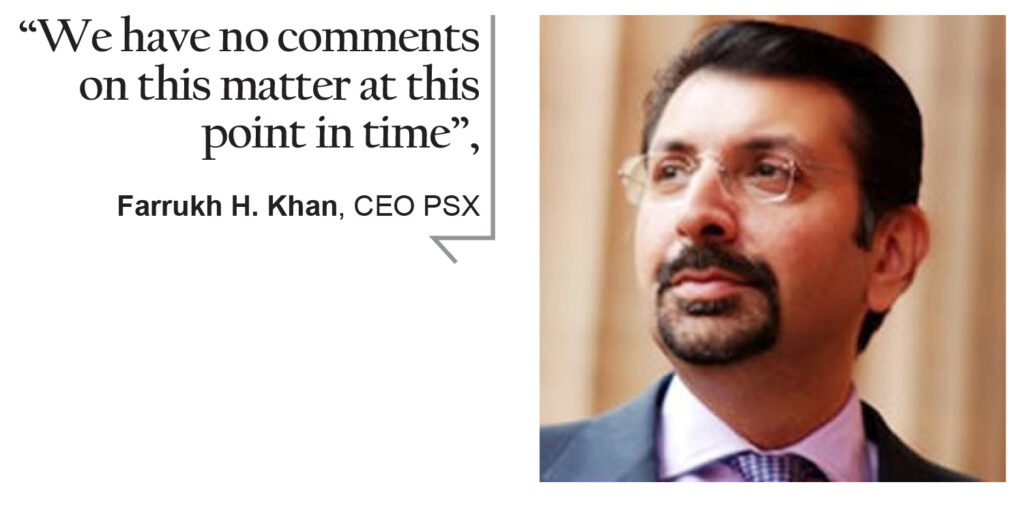 Then there is also the little issue of JS Bank and the big shareholders they are in partnership with hiding the value of their transaction. For example, the Randeree family is accepting to sell their shares in BankIslami presently trading at Rs 11 in exchange for 1.138 shares of JS Bank trading at less than Rs 5 at the moment. Considering that the Randeree family had recently bought some of the BankIslami shares from Emirates NBD at Rs 13.24, it defies logic that they would now want to sell them for shares worth less than Rs 5. Suspicions that there could be a side deal with the Randeree family and others that have not been disclosed to the exchange and to the regulators, can not be wished away. 
The acquisition effort finds itself in some truly choppy waters. On the one hand, old rivals have blocked them on one front and held up JS Bank's attempts to buy in court. In the meantime, all of the problems associated with the deal have come to the fore. To opponents like Dhedhi and others in the financial sector raising questions, this is an example of shady practices. To those vouching for JS Bank, it is an example of a wily business group managing to get the timing right and use institutional loopholes to their benefits. Now it is simply a matter of waiting and seeing what the courts and the SECP decide. That is what will decide whether Jahangir Siddiqui can pull this off.