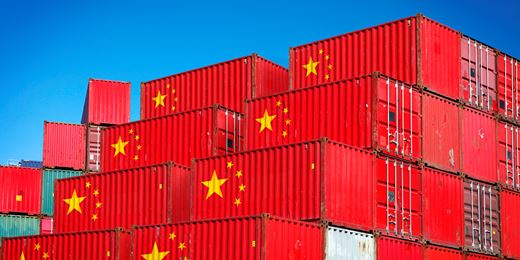 BEIJING: China's exports increased far less than expected in November, apparently indicating that slowing global demand outweighed any gains from a rush to ship goods to the United States ahead of a now-postponed Jan. 1 increase in Washington's import tariffs.
Import growth also fell sharply in November to the slowest pace since October 2016, which signals continuing weakness in domestic demand and could prompt Chinese policymakers to increase efforts to lift it to aid the slowing economy.
The November headline trade numbers came out less than a week after Presidents Donald Trump and Xi Jinping agreed to a 90-day truce delaying the planned Jan. 1 U.S. hike of tariffs to 25 percent from 10 percent on $200 billion of Chinese goods while they negotiate a trade deal.
November exports rose 5.4 percent from a year earlier, Chinese customs data showed on Saturday, the weakest performance since a 3 percent contraction in March.
Exports had risen 15.6 percent in October from a year earlier, and a poll of 26 economists had forecast November shipments from the world's largest exporter would increase 10 percent.
Growth in imports for November slowed sharply to 3.0 percent from a 21.4 jump in October, and far missed analysts' forecast of 14.5 percent.
WEAKENED SHIPMENTS
This year, China's overall export growth has been stronger than expected in almost every month.
Many economists attributed the strength in recent months to front-loading of cargoes to the United States in anticipation of even higher tariffs.
Shipments of Chinese goods on an earlier U.S. tariff list targeting $50 billion of products have already weakened sharply, but that has been offset by a rush of shipments on a later list affecting the $200 billion, according to analysts from Capital Economics.
Also, the Chinese yuan has weakened more than 5 percent against the dollar so far this year, helping to make Chinese products more competitive abroad.
However, a weakening global demand especially those from Japan and Europe might have cast shadow on the export engine in November.
China's trade surplus with the United States was $35.55 billion in November, a record high and compared with $31.78 billion in the preceding month.
For trade with all countries, China's surplus was $44.74 billion for November, compared with forecasts of $34 billion and October's surplus of $34.02 billion.
On Thursday, the U.S. reported that its trade deficit in October jumped to a 10-year high, and that the deficit with China that last month surged 7.1 percent to a record $43.1 billion.