The recent departures of Haris Shahid from Wavemaker, both Aimen Iftikhar and Mohammad Shadab from Mindshare, and Agha Fasieh from GroupM have once again raised concerns among chief clients of the largest media investment company in Pakistan.
"They cannot retain, they cannot recruit, they don't know how to evaluate talent," said a client of the WPP media agency. "In speaking with their other clients, we have learned that we are being labeled as bad clients as justification for people leaving the agency.  They don't know how to present a team structure, don't have training plans for staffers, no onboarding, don't know how to motivate their teams, and are not even able to bring their teams together as a basic to collaborate and simply work together."
In speaking with nearly a dozen former GroupM employees that resigned in the past 12 months, Profit learned that the concerns – which allegedly could not honestly be shared in exit interviews due to fear of being blacklisted or labeled a troublemaker – were predominantly on the employee experience (EX). These include the frustration with a problematic culture fixated on media that is the best source of commissions, the gradual erosion in media strategy experimentation, and the absence of empathy across the leadership team, among others.
As reported earlier by Profit, the high churn of talent is an issue across the $1.75 billion advertising and media industry in Pakistan, with GroupM enjoying a relatively impressive track record of employee retention among media agencies. Across Mindshare, Mediacom, Wavemaker, Xaxis, and MEC, GroupM averages a 44-month employee tenure, which is 19% better than the average tenure of an employee of Z2C Limited across Starcom Pakistan, Blitz Advertising, Starcrest Communication, Brainchild Communications Pakistan, and PakMediaCom. 
Domino effect
The talent churn issue at GroupM was amplified in 2020 due to former GroupM CEO Fouad Hussain joining the Omnicom Media Group as its new CEO coupled with former Maxus managing director Sarwar Khan co-founding IG Square, a media buying house specializing in fit for format media solutions that embrace data, content, and technology. The departure of Khan followed a wave of high-profile resignations from Maxus. 
Article continues after this advertisement

Chief among them were Umais Naveed, who left for the Digital Engagement Network, and Roshan Ejaz, who left to lead marketing at Jomo. The largest blow, however, came in the form of Tajdar Chaudhry who left to take over marketing at RDX Sports. In addition, two Maxus business managers – Farooq Akbar and Ahsan Khan – left to join IG Square within six months of Khan's departure.
To make matters worse, around this time Z2C Limited poached several GroupM employees to join either Starcom or Brainchild Communications. These include Faheem Siddiqui, Muhammad Fahad, Zunair Sheikh, and the eminent Nathan John. Sheikh told Profit that he did not leave for a premium salary offer, stating that he did so in order to shift his focus from digital planning to programmatic advertising. A spokesperson from GroupM insisted that these departures have roots in premium salary offers. The only seemingly amicable departures among this wave are Kiran Khan Ali who chose to retire and Hussain Lotia, a former PepsiCo business manager at Mindshare, who left to pursue a master's in Ireland. 
On the other hand, GroupM Pakistan is clearly a career accelerator, according to analysis based on 2020 data. Alumni go on to join consumer goods, technology, automotive, and banking organizations across the APAC and MENA regions, with nearly two-thirds of alumni going on to join client-side roles. 
LinkedIn data shows that alumni of the media investment firm that immigrated to Canada were able to land work within the network or its client base relatively quickly after obtaining permanent residency, whereas counterparts working with affiliate media agencies took three to six months to find work after securing permanent residency in Canada.
Symptoms of toxicity
In speaking with several Pakistan-based former employees of GroupM, the overall consensus shared with Profit was to replace the entire executive committee. This includes the chief digital officer, the chief financial officer, the chief investment officer, the managing director of Mindshare, the general manager of m/Six, and the new managing director of Wavemaker.
"The easiest thing to do in the world is to assign blame, and this only serves those with a fixed mindset, not a growth mindset," said Tajdar Chaudry, a former associate digital director at Wavemaker. "That largely sums up what GroupM is, and will likely continue struggling with until conscientiously, accountably, and transparently are addressed. No amount of lip service will make up for action, or lack thereof."
Echoing the off-record testimony of several former GroupM employees, Chaudry stated that people leave bad managers, not bad jobs, adding that the buck always stops at leadership and it would be easy recommending that the executive committee is merely replaced.
"It's their departments' people are leaving, not the CEOs," he said. "The last one was removed, the problems persist. They're the constant, whether we/they like to admit it or not. Saying all that would not be coming from a place of kindness and empathy, however, which is my purpose as I [voice] this. I want to highlight the critical ingredients lacking in a majority of present [executive committee] members and incidentally the exact ones needed to navigate & lead a modern workplace through approaching existentialists such as mental health, wellbeing, and mindful leadership."

Speaking to Profit, Chaudry insisted that the behavior of the executive committee – which has led to a toxic working environment – is not likely intentional and is more likely yet another example of the globally witnessed Dunning-Kruger effect.
"At present, they are 'clueless' – a word that is both accurate and kind," he said. "They practice ego and fear-led managerial styles and operate from a healthy lack of self-awareness, expecting the organization to orbit them. It is no surprise then, that when these precedents are set and modeled as "leadership", the same trickles down to lack of loyalty and ownership in the overall 'work experience' by their human rank and file."
He told Profit that when he voiced an interest to join the technology team, a member of the executive committee in his reporting line told him he was too old – which is ageist – and it was not his job to take initiative. This experience, among others, left him appalled, incensed, and understandably confused. 
"When viewed from a place of non-judgment however, their words were an insight into a person that believes they might be too old to be operating in their present capacity. They carry that limiting belief – of age and performance – through into their judgment, words, and actions and confirm to everyone but themselves, that they live and operate out of that fear-led place."
Approaching his experience from an empathic standpoint, Chaudry said that the mindset postulated above creates a guarded and insulated presence that views any ambitious subordinates as a threat, which is then rewarded with a maze of redirections instead of a career path for creating a future leader.
"They lack that, so they're unable to pass it on to someone as their own," he said. "I have a cornucopia of similar examples – by other executive committee members – that confirm the validity of my diagnosis. I am comfortable sharing it because I am not emotionally invested in the outcome. I'm choosing to share for the human beings still working there, who have similar – or worse – toxic experiences under the present leadership, and maybe looking to make sense of them. The present status quo is not normal. Not for any place existing in 2021, let alone a company-operated outfit that's part of the world's largest media holding company."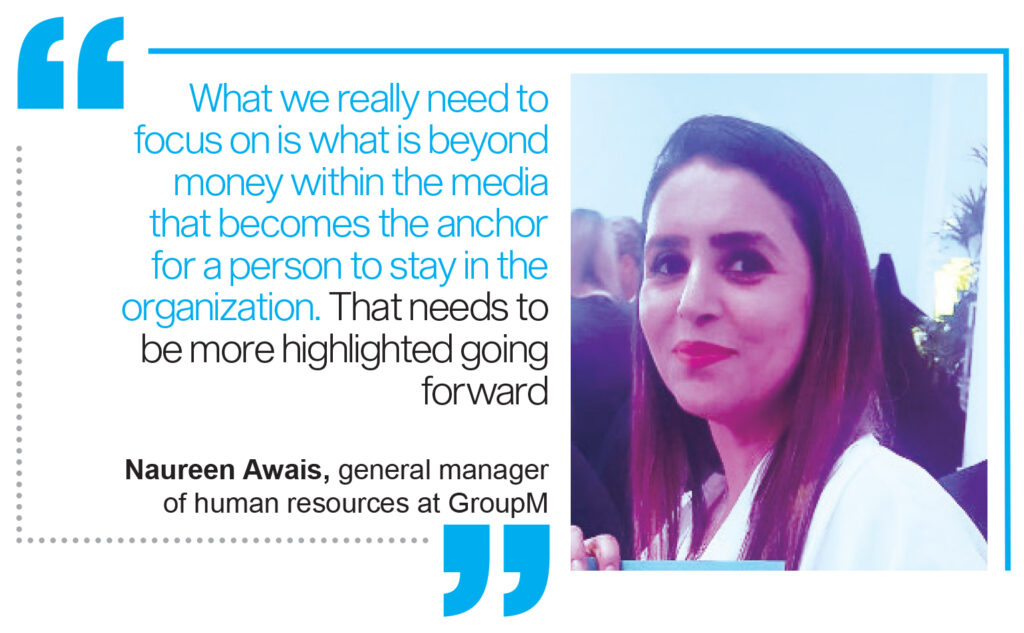 He insists that replacing the executive committee is the first step, whether that takes shape as the current executive committee pledging to bring forth better versions of themselves or in the shape of new faces entirely. "Being human is a prerequisite, not an option," he said. "Rebirth or reckoning? It's entirely their choice."
GroupM shares its talent action plan
To understand what GroupM intends to do about the wave of departures, Profit reached out to understand what reasons the media investment firm has identified in exit interviews is at the root behind the talent churn and what the company intends to do about it.
"As the best in class in terms of media, we have a kind of three-pronged challenge," said Naveed Asghar, CEO of GroupM, in an interview with Profit. "If there are any brands that want to strengthen their media departments, they reach out and poach our talent because (a) they know that they are very ethical and they are dealing with people with impeccable integrity, well trained, well-groomed staff. The second challenge is our ace competitors offer a premium and get our people on board. The third is the influx of startups and tech companies which invariably look at GroupM as the prime suspect to get the right talent on board."
To his point, there are a number of examples of client-side media managers originating from GroupM, notably Shayan Ahmed at RB, Umber Jawed at Ismail Industries Limited, Momina Gardezi at Xiaomi Technology, and many more. The same has happened in mid-2020 with all agencies under Z2C Limited, particularly Starcom, notably Fareeha Waheed joining Stylo and Amna Tariq joining Nestlé, among several others.
"It becomes a challenge and a half to retain good people," said Asghar. "Having said that, we are always trying to inculcate the right culture at GroupM which will give more reasons for people to stay loyal and create differences between performers and nonperformers. If we would inculcate a performance-driven culture, we would have better traction and better loyalty coming through from our performers. It would be a combination of having the right intrinsic and extrinsic means & motivators to hopefully keep our best talent rewarded and recognized at all times and that's an effort we are making to keep our people happy."
He added that the EX was being enriched through rotations, job enhancements, both on the job and off-site training, and an open & candid culture that would encourage anyone to challenge the status quo. He claimed that GroupM has managed to keep its employee attrition rate below 20%, which he stated is the market average.
"In the past year, we conducted a culture survey to understand the needs of the employees and making things better in terms of creating new policies, being more flexible about how they would like to see their organization to be, thinking about how Gen Z would want us to be going forward," said Naureen Awais, the general manager of human resources at GroupM. "Bringing that shift in the leadership in itself is a big initiative that we have taken in the past year."
She said that GroupM has ramped up the frequency of town halls and surveys in an attempt to boost employee engagement, adding that performers are publicly recognized and rewarded through a new program called Mengage. Her team resumed a program around developing new leaders, has ramped up virtual training and has raised the frequency of activities that bring the company together, which she says is especially important amid work from home.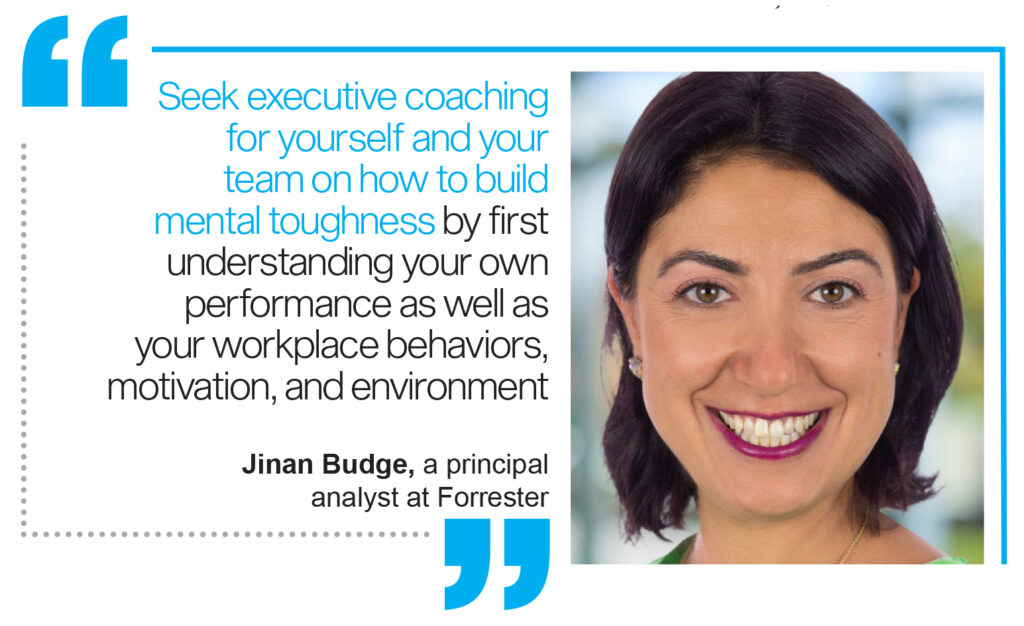 "When people are moving from one organization to another, I don't think salary is the only aspect," she said. "What we really need to focus on is what is beyond money within the media that becomes the anchor for a person to stay in the organization. That needs to be more highlighted going forward."
Cross-industry expertise
In the critically acclaimed 2020 research paper titled "The effectiveness of employee retention through an uplift modeling approach", academics Evy Rombaut and Marie-Anne Guerry of the Vrije Universiteit Brussel found that providing younger employees with public recognition and significant boosts in compensation had a quantifiable impact on retention. 
Furthermore, the research duo found that young employees have a great need for constructive feedback and recognition for their work. For older or more seasoned employees, the study found that flexibility as a family-friendly work practice and regular advanced training has a measurable impact on employee retention. The researchers concluded that with varying stages of an employee's life – single, married, parenthood – needs change from extrinsic to intrinsic. 
"While remuneration is important in attracting talent, its impact on retaining that talent becomes limited over time," said Jinan Budge, a principal analyst at Forrester. "This means you need to create an environment that compels your staff to stay by moving beyond financial rewards, making work-life flexibility a priority, and cultivating a strong team culture."
Through a LinkedIn post, Budge learned that before even thinking about reshaping culture, companies must accept the reality that toxicity exists and needs to be dealt with directly. She said that infighting, unhappiness, and aggression between team members are signs of a toxic culture in practice
"Fix the hero complex as soon as you spot it," she said. "Our interviewees described teams rife with individuals who talk and act as if they are invincible, know everything, or are misunderstood geniuses. These individuals can be identified as early as the interview process, but if you miss it, call it out immediately, offer ways for them to correct it, and be prepared to act if they don't."
She added that toxic leaders – such as those in an executive committee – could be identified through qualitative feedback suggesting a lack of organizational support, low leadership maturity, lack of role clarity, poor communication skills, and the inability to create team buy-in.
"Make the case for investing in yourself and people management," she said. "You have a central role in motivating and cultivating meaningful work for your team, which in turn drives retention. Seek executive coaching for yourself and your team on how to build mental toughness by first understanding your own performance as well as your workplace behaviors, motivation, and environment."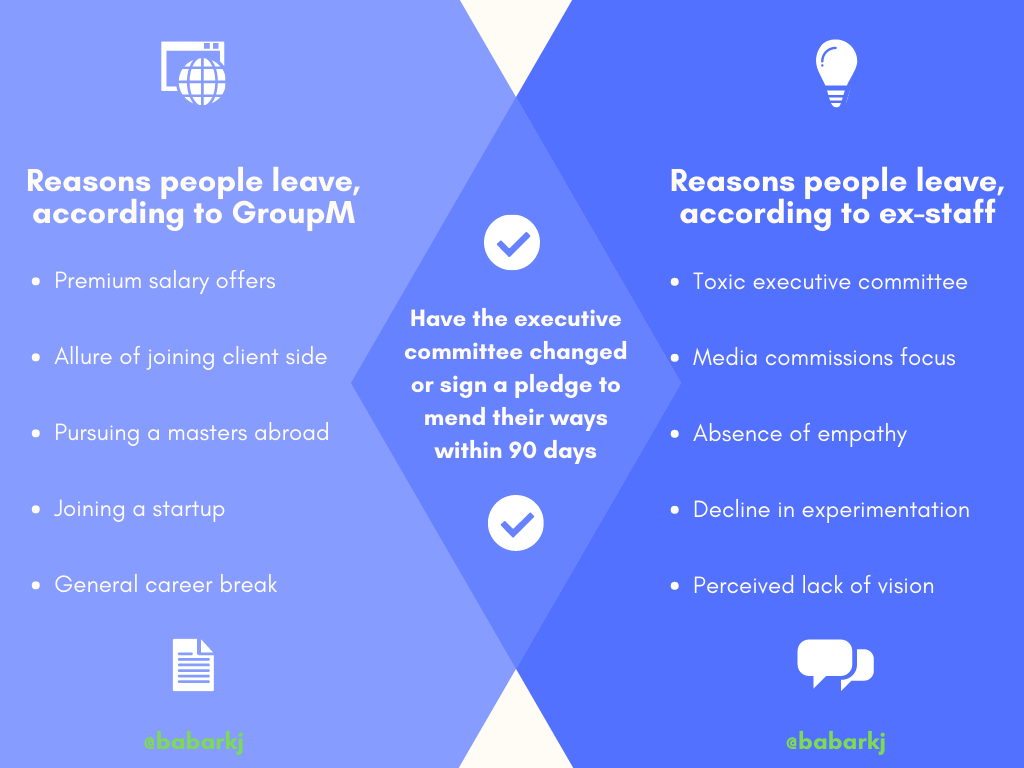 Given its recent acquisition of social media agency Likeable, Profit spoke with talent retention leaders at the Pakistani-owned technology services firm 10Pearls which has now grown in functional market share with advertising services. With a talent retention strategy that places purpose and people first, the company boasts a workforce of over 750 employees as of January 2021, which is nearly double from the same time last year.
"Out of our total workforce, 150+ people have been with us for 5+ years, whereas 100+ have been with us for 3-5 years," said Syeda Sana Hussain, the senior director of human capital at 10Pearls. "The variables we focus on to attract and retain top talent circle around representative recruitment, personal growth & professional advancement, lifestyle and remuneration benefits and leveraging technology for a better employee experience."
The company claims to employ human-centric policies, a mentorship mindset and programs, goals-driven appraisals, continuous improvement plans, training opportunities, an open-door policy, and constant growth opportunities for all the employees. "Our global pool now incorporates not only tech and business resources, but also a creative/digital media team," said Hussain. 
"Whether it's tech team, business/support functions, or creative/media team, the key is to proactively listen to them, understand their work and the nuances of the market they operate in and foster an ecosystem/culture that motivates, recognizes, and incentivizes them, helps them grow, take ownership and genuinely be an advocate of your brand!"
With nearly a third of its workforce being female, Hussain claims that 20% of the current female staff has been with the company for over five years with a few for as long as eight years. She says this is why 10Pearls is a three-time winner of the "Best in Gender Diversity" Award from P@SHA and that more than 35% of 10Pearls' new hires from Q1 2021 are women. 
"We have numerous benefits and growth opportunities aimed to encourage women to apply, which includes an onsite daycare for working parents, toddlers learning center (currently not operational due to COVID), flexible timings and WFH option for all, gym and wellness programs, paid maternity leave, numerous women's events, travel and training opportunities, and an overall culture that ensures a safe and encouraging environment for women," she said.